Oftentimes when I'm working with new clients who are expecting their first baby, I find that they worry about getting the right items and products for the nursery. Because there are so many unknowns, a lot of my clients try to stay with the items they've read about on registry checklists and are afraid to step outside the box. This happens frequently with the changing table. The typical changing table is a specially made dresser that usually matches the crib and may also have a changing tray attachment or a dual height. However, there is no reason why other types of dressers can't be used for this same purpose. There are so many changing table alternatives out there, and there's no reason you have to stick with the basics.
Go vintage. The dresser is the perfect opportunity to use a great vintage or heirloom furniture piece in the nursery. It's not safe to use a vintage crib, but the dresser is fair game. Look for a piece that has a comfortable height and drawers that open and close easily. Also make sure there was no lead paint used in the finish, the drawer mechanisms are solid and there are no missing or loose parts. Using a vintage dresser is a great way to give character to the space, and it's also a good option for those who are budget conscious since great vintage pieces can be found online or at flea markets.
Barrett's Neutral Whimsical Nursery
Repurpose. If you have an old dresser that's functional but not very aesthetically pleasing, you can repurpose it in the nursery. With a little DIY effort (or with the help of a local refinishing shop), you can bring an old dresser back to life. This is another great option if you need to stay within a budget or if you have an old dresser taking up space in storage.  In Laila Ali's nursery below, we chose a changing table in a gorgeous custom shade of pink to bring out the femininity of the space, and add a punch of color.  While this was a new piece of furniture, you can see how painting a changing table can really make a statement.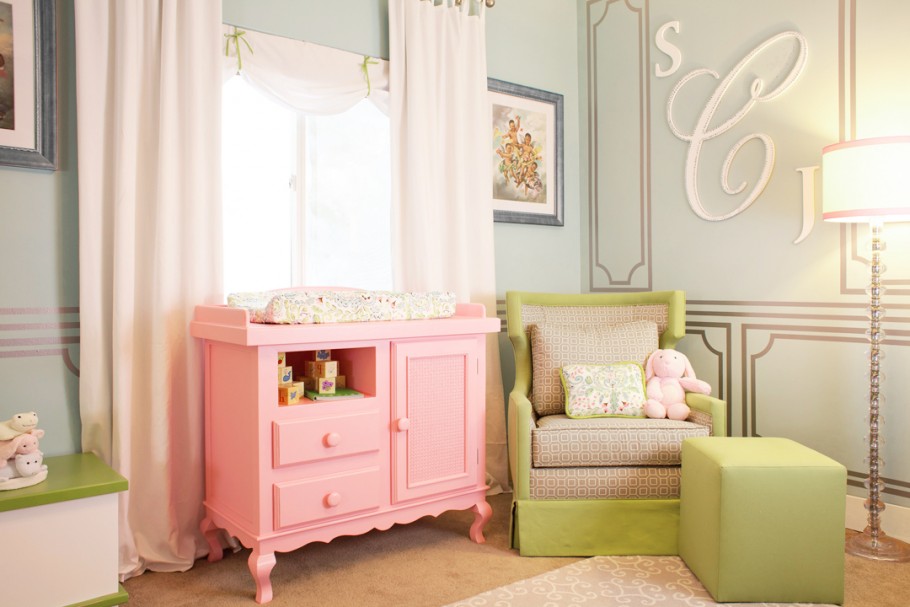 Laila Ali's Nursery
Mix and match. Just because your crib has a matching changing table doesn't mean you have to buy it. There are so many fun options out there for dressers, and you can always buy a changing tray to go on top if you prefer. Try mixing colors and finishes in your nursery to create an eclectic look. In addition to colors, you can also mix materials like wood, metal or acrylic.
Kai's Adventure Nursery
Dress it up. No matter what type of dresser or changing table you end up with, you can always add a little extra oomph by switching out the knobs or handles. Crystal knobs will add instant femininity, leather pulls will add a rustic touch, and a little spray paint can turn dull silver into shimmering gold. You can even mix a few of these ideas together if your piece has both knobs and handles.  In the photo below (from a nursery I designed a million years ago), we purchased a distressed white changing table, but my client really wanted to add sparkle wherever she could in the space.  We found some great antique-style crystal knobs and switched them out for an instant makeover.
Would you choose a traditional piece for your baby's nursery, or will you opt for one of these changing table alternatives?
[This piece was adapted from my original post for Project Nursery]
Back when I started Little Crown Interiors, one of my very first clients was living in a traditional home in Beverly Hills but loved modern design. I worked with her to come up with a compromise for her son's room. Then a few years later, she moved into a very modern home and called me asking for a very colorful and modern bedroom for her son, now age six. Some of his favorite things are video games and astronauts, so I created a design that was bright and bold with modern touches and lots of fun.
She already owned the Nursery Works bed from his last room, so we re-used it in this design (sadly, it's discontinued now).  There was a very long empty wall for a dresser or bookcase, so I suggested the Kubist Dresser from ModShop, which has such an amazing modern design. To add some serious drama, I designed a custom bookcase that we added on top for all his toys and collections.
In the other corner of the room, I wanted to create an area for pure fun. My client expressed interest in having a hanging chair in the room, so I jumped at the chance to install an acrylic bubble chair! Behind the chair, we added white and silver upholstered "pixels" for a fun video game feel and to protect the walls. For a pop of color, we sent in a photo to All Pop Art and had a fun Warhol style art piece made.
One of my favorite parts of this room is the Puzzle Rug. It's a rare thing to come across an area rug that also functions as kid's entertainment! The whole thing is modular, so he can play around with it and move the puzzle pieces around as he chooses. To complement the design, I added a floating side table, some custom silver roman shades and a fun modern ceiling pendant.
The final touch was a life-sized astronaut printed on the duvet and a helmet on the pillowcase. Every night as he goes to sleep, he gets to pretend he's an astronaut heading into space.
Click here for all the photos of this fun boy's bedroom.
I've had several clients over the past few months who have asked me to incorporate some type of moon, space or celestial decor into their nursery designs. You might think that this type of design only works for boys, but it's actually quite gender neutral.  I've also talked a lot about how themed nurseries can be tricky. However, adding a moon here or a star there won't turn your nursery into an outer space diorama, but rather subtly hint at the great beyond. I've pulled together some of my favorite celestial nursery decor pieces below.
Crop Circle Mobile from CB2
While you might think that space decor should be silver, I love the fact that this modern mobile is a warm brass tone. It hints at planetary shapes while remaining neutral and fresh.
Laser Cut Moon Wall Hanging from Havoc Designs on Etsy
I just love the laser cut look of this moon wall hanging. The natural wood grain adds warmth, while the shiny silver finish is modern and definitely space age. It also has a handcrafted look, which is something I always love to bring into a nursery design.
Zodiac Constellation Art from RH Teen
Talk about a statement piece! This large zodiac moon print is 36″ wide, making it the perfect stand-alone piece to be hung over a dresser or secured over a crib. The best part is that it can be customized with your child's zodiac sign in a pretty gold foil. I love that this piece also comes in pink or gray, making it a great fit for any space.
 Big Dipper Crib Bedding from The Land of Nod
Another way to bring in a celestial accent is in your crib bedding. This sweet set has a little constellation and star pattern in gray and gold, making it neutral enough to pair with any other color scheme.
My Spaceship Will Come from Society6
I just love the whimsy of this collage style art print. Outer space decor doesn't have to be modern, and it doesn't have to be blue and silver. With a little searching, you can find great gems like this piece that are colorful, sweet and fun.
[The above is a piece I wrote for Project Nursery]