For anyone who knows me personally, you know that I don't like "stuff".  I definitely lean toward minimalism, although I don't like starkness.  I like things well-designed and colorful, but clean and free of unnecessary clutter.  If I buy a new dress, I donate an old one.  Same goes for home decor.  For anyone who leans this way, this post is for you.  If you revel in clutter and can't bear the thought of giving away anything, keep reading anyway – you might just save yourself some money!
It may seem counterintuitive for a nursery designer to tell you what you don't need in the nursery.  After all, it's pretty much my job to tell you what you do need.  But a quick online search for a nursery checklist can leave you with a massive list of items.  Even the checklist that I create for my clients is fairly extensive because I do have clients who want to have every single item.  Generally, I start with the full list, then we talk about how much they want or need, and how much we can cross off said list.
A lot of first-time parents are afraid that if they don't buy every little thing, they will find themselves in a situation where they desperately need that one little thing.  My rule of thumb is that if it's going to keep you up at night, then you may as well buy it for your own sleep's sake.  My personal nursery design philosophy, and the one that I share with my clients is that quality, function and safety come first.  I would much rather see someone buy a few high quality pieces that are beautiful and will last for years, over a bunch of low quality items that just take up valuable space – and we know how important space is in a nursery!
So, here are some items that you most likely don't need to buy for the nursery when you're pregnant for the first time.

A very clean bookshelf in this Minimalist Modern Nursery
Books.  Kid's books are super fun and everyone is going to buy them for you.  If you don't buy a single book, you will still somehow end up with lots of them.  Some experts recommend reading to your baby from day one, but you won't need a huge collection for that, and you can fill it in with more books as they get older and more choosy.  Afraid of an empty bookcase or shelf?  Not to worry.  Just fill the space with other items like stuffed animals, family photos and small potted plants.
Pillows.  Pillows are pretty and they look beautiful in nursery photos, but they are a safety hazard when placed in the crib.  There are some types of pillows that are good to have in the nursery, like a lumbar support pillow for breastfeeding, or a few throw pillows if you have a window seat.
There's a lot of color and pattern, but not a lot of "stuff" in this Modern White & Green Nursery.
A Cradle.  Especially if you have a baby registry, chances are that you're going to end up with many places to park your baby – a crib, co-sleeper or bassinet, moses basket, pack 'n play or playard, bouncer, exersaucer, etc.  Most of these items are large and/or difficult to manage, so if you can keep them to a minimum, your sanity will thank you (as well as the person stuck with the job of assembling the darn things).
No changing tray in this nursery so the client could have flexibility with her tabletop items.
A Changing Tray.  If you've been looking for a changing table, you've likely come across the changing tray, which is a wood tray that sits on top of the dresser to hold the changing pad and a few other changing items.  A tray can look really nice, but it has a few disadvantages.  First, it takes up a lot of space on the dresser so it can be hard to add other things, like a lamp.  Second, it does a good job of organizing your items into separate spaces, but it gives you less flexibility.  I would recommend a portable diaper organizer instead so you can easily move it off the dresser, or bring it with you into another room.  You can see one that I like in my Must Have Baby Registry Items post.
I'd love to hear if you ended up with any items that you never used – what were they and why didn't you use them?
Oftentimes when I'm working with new clients who are expecting their first baby, I find that they worry about getting the right items and products for the nursery. Because there are so many unknowns, a lot of my clients try to stay with the items they've read about on registry checklists and are afraid to step outside the box. This happens frequently with the changing table. The typical changing table is a specially made dresser that usually matches the crib and may also have a changing tray attachment or a dual height. However, there is no reason why other types of dressers can't be used for this same purpose. There are so many changing table alternatives out there, and there's no reason you have to stick with the basics.
Go vintage. The dresser is the perfect opportunity to use a great vintage or heirloom furniture piece in the nursery. It's not safe to use a vintage crib, but the dresser is fair game. Look for a piece that has a comfortable height and drawers that open and close easily. Also make sure there was no lead paint used in the finish, the drawer mechanisms are solid and there are no missing or loose parts. Using a vintage dresser is a great way to give character to the space, and it's also a good option for those who are budget conscious since great vintage pieces can be found online or at flea markets.
Barrett's Neutral Whimsical Nursery
Repurpose. If you have an old dresser that's functional but not very aesthetically pleasing, you can repurpose it in the nursery. With a little DIY effort (or with the help of a local refinishing shop), you can bring an old dresser back to life. This is another great option if you need to stay within a budget or if you have an old dresser taking up space in storage.  In Laila Ali's nursery below, we chose a changing table in a gorgeous custom shade of pink to bring out the femininity of the space, and add a punch of color.  While this was a new piece of furniture, you can see how painting a changing table can really make a statement.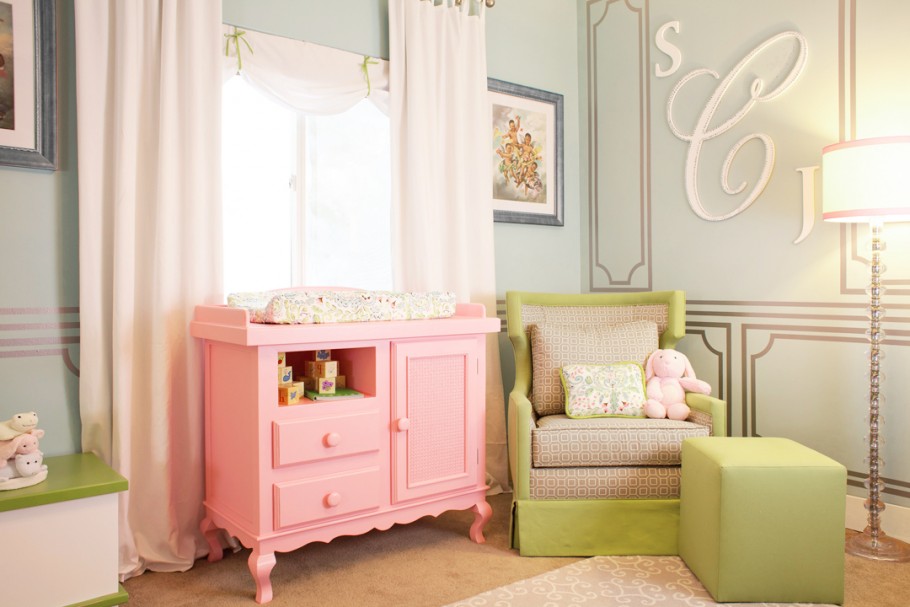 Laila Ali's Nursery
Mix and match. Just because your crib has a matching changing table doesn't mean you have to buy it. There are so many fun options out there for dressers, and you can always buy a changing tray to go on top if you prefer. Try mixing colors and finishes in your nursery to create an eclectic look. In addition to colors, you can also mix materials like wood, metal or acrylic.
Kai's Adventure Nursery
Dress it up. No matter what type of dresser or changing table you end up with, you can always add a little extra oomph by switching out the knobs or handles. Crystal knobs will add instant femininity, leather pulls will add a rustic touch, and a little spray paint can turn dull silver into shimmering gold. You can even mix a few of these ideas together if your piece has both knobs and handles.  In the photo below (from a nursery I designed a million years ago), we purchased a distressed white changing table, but my client really wanted to add sparkle wherever she could in the space.  We found some great antique-style crystal knobs and switched them out for an instant makeover.
Would you choose a traditional piece for your baby's nursery, or will you opt for one of these changing table alternatives?
[This piece was adapted from my original post for Project Nursery]
Back when I started Little Crown Interiors, one of my very first clients was living in a traditional home in Beverly Hills but loved modern design. I worked with her to come up with a compromise for her son's room. Then a few years later, she moved into a very modern home and called me asking for a very colorful and modern bedroom for her son, now age six. Some of his favorite things are video games and astronauts, so I created a design that was bright and bold with modern touches and lots of fun.
She already owned the Nursery Works bed from his last room, so we re-used it in this design (sadly, it's discontinued now).  There was a very long empty wall for a dresser or bookcase, so I suggested the Kubist Dresser from ModShop, which has such an amazing modern design. To add some serious drama, I designed a custom bookcase that we added on top for all his toys and collections.
In the other corner of the room, I wanted to create an area for pure fun. My client expressed interest in having a hanging chair in the room, so I jumped at the chance to install an acrylic bubble chair! Behind the chair, we added white and silver upholstered "pixels" for a fun video game feel and to protect the walls. For a pop of color, we sent in a photo to All Pop Art and had a fun Warhol style art piece made.
One of my favorite parts of this room is the Puzzle Rug. It's a rare thing to come across an area rug that also functions as kid's entertainment! The whole thing is modular, so he can play around with it and move the puzzle pieces around as he chooses. To complement the design, I added a floating side table, some custom silver roman shades and a fun modern ceiling pendant.
The final touch was a life-sized astronaut printed on the duvet and a helmet on the pillowcase. Every night as he goes to sleep, he gets to pretend he's an astronaut heading into space.
Click here for all the photos of this fun boy's bedroom.