When I was just starting out as a nursery designer (10 years ago!), I can still remember the first time I went to my local fabric and wallpaper showroom.  I'd been there before on other jobs, but never for a nursery.  Back then, a lot of people were still afraid of wallpaper and I wasn't getting very many requests for it, but I decided to take a gander anyway.
The room had literally hundreds upon hundreds of wallpaper books, along with even more wall panel displays – seriously overwhelming.  But here's the thing:  a wallpaper stock room in Orange County is going to be about 99% neutral.  You know, beige, tan, ivory, grey, etc.  Thousands of shades of neutral patterns.  So when I saw the spine of a wallpaper book that was neon pink, I got pretty excited.
That wallpaper book was from Pip Studio, which I had never heard of at the time.  The name "Pip" comes from the designer's alter ago.  Yes, you read that right.  ALTER EGO.  It's like an adult's imaginary friend created this wallpaper line.  Let's take a gander…
Pip Studio Melody Wallpaper
See what I'm talking about?  I'm sure you've seen the bold floral nursery wallpaper trend that's happening just about everywhere lately.  Well, Pip Studio was onto that trend years ago.  And the Chinoiserie trend.  And the bird trend.
Pip Studio Lady Bug Wallpaper
Oh, and the gold metallic trend?  They have that one too.  I'll be honest, this lady bug pattern actually makes me cringe a little, but objectively it's really cute (for someone who likes bugs).  This one comes in lots of colors, including multiple shades of pink (for girls who like bugs).
Pip Studio Lovely Branches Wallpaper
Don't get me wrong, I don't have a problem with neutrals.  Neutrals can be very appropriate for a nursery design, and color can always be layered in.  This pattern is neutral, but definitely not boring.  I actually just wrote a whole post about choosing neutral wallpaper for a safari nursery I was working on.  There is absolutely a time and a place.

Pip Studio Geometric Wallpaper
This one you just have to see up close.  It's called geometric, but it also has such a traditional hand-painted feel, making it very versatile.  The colors are so rich and pigmented and the combination of emerald green, cobalt blue and bright pink is stunning.
Pip Studio Deerest Peacock Wallpaper
I absolutely love peonies, and whenever I see them I have visions of big peony arrangements sitting on the entry table of a very wealthy Upper East Sider (Gossip Girl anyone?).  There's something so romantic about them and their very specific shade of pink.  I can think of nothing sweeter for a girl's room.
A few weeks ago on Instagram, I shared an image of a nursery design I've been working on for a client in Los Angeles.  When I first met with her, she knew she wanted some safari elements in the room, possibly in a wallpaper design.
Safari nurseries have been a huge trend for such a long time, but even within the safari theme, things have changed a bit over the years.  I used to get requests for a more traditional safari look, with lots of earthy tones, browns and greens.  Nowadays, people are opting for a much more sophisticated look in the nursery.  I can't even tell you how many clients have been asking for neutral colors, monochromatic looks and even all white or all ivory.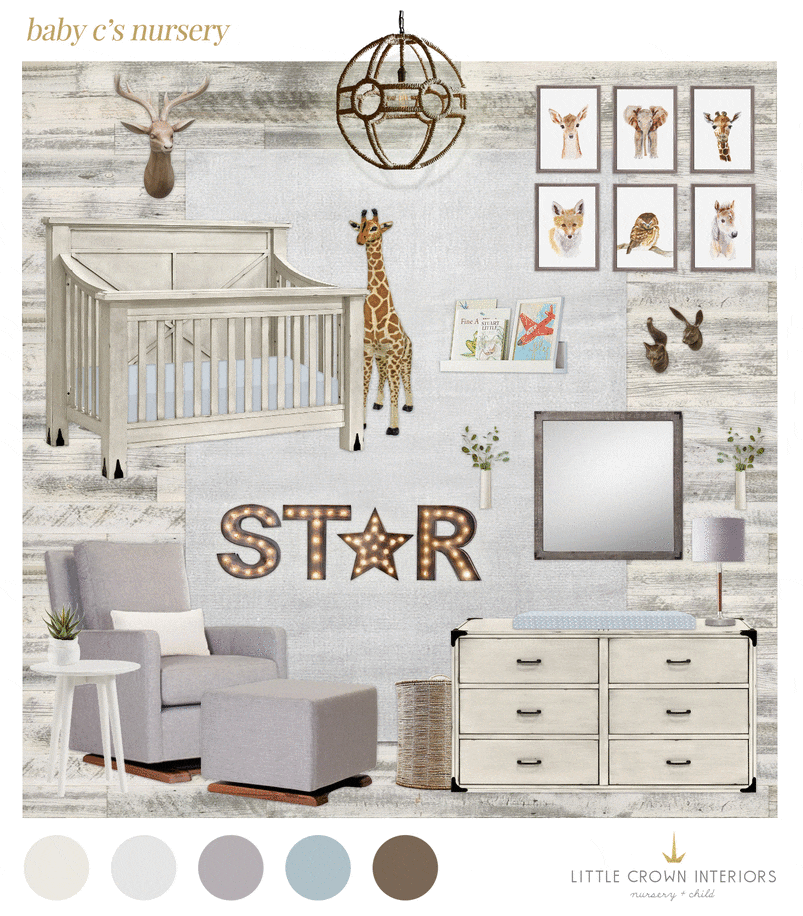 So, back to my client.  When I went back for her first design meeting, I brought a few fun safari theme wallpapers for her to choose from (as well as a rustic wood paneling look as an alternative).
Option 1: Zebra print wallpaper from Sissy + Marley.  I just love the geometric lines of this one.  The other great thing about it is that the color of the zebras is fairly subtle, which means it wouldn't be overwhelming on all four walls of the nursery (which we wanted to do).
Option 2:  Rifle Paper Co. Safari Wallpaper from Hygge & West.  This pattern was definitely at the top of my list.  I love how the style of the drawing has whimsy and because the animals are on a slight diagonal, it really gives them movement.  And again, the colors are subtle, so it wouldn't be overwhelming in the space.
Option 3:  Ark wallpaper by Andrew Martin.  This was the very first safari wallpaper I showed her, even before we had our first design meeting.  It has a more traditional look and has a soft hand-painted feel, which I love.  It's a bolder color in a darker grey, but still neutral enough to use on all four walls.
Option 4:  Spot wallpaper from Abnormals Anonymous.  I love this wallpaper, but I wasn't sure about it for this particular space because it's fairly high contrast and the base color is slightly more yellow.
And the winner is…Option 3!  We decided to go with the Andrew Martin wallpaper because it just has such a beautiful sophisticated look and will give the space longevity.  However, we did end up going with a different color that's a little lighter and more on the beige side.  Stay tuned for updates on this neutral safari nursery!
[This piece was adapted from my original post for Project Nursery]
For anyone who knows me personally, you know that I don't like "stuff".  I definitely lean toward minimalism, although I don't like starkness.  I like things well-designed and colorful, but clean and free of unnecessary clutter.  If I buy a new dress, I donate an old one.  Same goes for home decor.  For anyone who leans this way, this post is for you.  If you revel in clutter and can't bear the thought of giving away anything, keep reading anyway – you might just save yourself some money!
It may seem counterintuitive for a nursery designer to tell you what you don't need in the nursery.  After all, it's pretty much my job to tell you what you do need.  But a quick online search for a nursery checklist can leave you with a massive list of items.  Even the checklist that I create for my clients is fairly extensive because I do have clients who want to have every single item.  Generally, I start with the full list, then we talk about how much they want or need, and how much we can cross off said list.
A lot of first-time parents are afraid that if they don't buy every little thing, they will find themselves in a situation where they desperately need that one little thing.  My rule of thumb is that if it's going to keep you up at night, then you may as well buy it for your own sleep's sake.  My personal nursery design philosophy, and the one that I share with my clients is that quality, function and safety come first.  I would much rather see someone buy a few high quality pieces that are beautiful and will last for years, over a bunch of low quality items that just take up valuable space – and we know how important space is in a nursery!
So, here are some items that you most likely don't need to buy for the nursery when you're pregnant for the first time.

A very clean bookshelf in this Minimalist Modern Nursery
Books.  Kid's books are super fun and everyone is going to buy them for you.  If you don't buy a single book, you will still somehow end up with lots of them.  Some experts recommend reading to your baby from day one, but you won't need a huge collection for that, and you can fill it in with more books as they get older and more choosy.  Afraid of an empty bookcase or shelf?  Not to worry.  Just fill the space with other items like stuffed animals, family photos and small potted plants.
Pillows.  Pillows are pretty and they look beautiful in nursery photos, but they are a safety hazard when placed in the crib.  There are some types of pillows that are good to have in the nursery, like a lumbar support pillow for breastfeeding, or a few throw pillows if you have a window seat.
There's a lot of color and pattern, but not a lot of "stuff" in this Modern White & Green Nursery.
A Cradle.  Especially if you have a baby registry, chances are that you're going to end up with many places to park your baby – a crib, co-sleeper or bassinet, moses basket, pack 'n play or playard, bouncer, exersaucer, etc.  Most of these items are large and/or difficult to manage, so if you can keep them to a minimum, your sanity will thank you (as well as the person stuck with the job of assembling the darn things).
No changing tray in this nursery so the client could have flexibility with her tabletop items.
A Changing Tray.  If you've been looking for a changing table, you've likely come across the changing tray, which is a wood tray that sits on top of the dresser to hold the changing pad and a few other changing items.  A tray can look really nice, but it has a few disadvantages.  First, it takes up a lot of space on the dresser so it can be hard to add other things, like a lamp.  Second, it does a good job of organizing your items into separate spaces, but it gives you less flexibility.  I would recommend a portable diaper organizer instead so you can easily move it off the dresser, or bring it with you into another room.  You can see one that I like in my Must Have Baby Registry Items post.
I'd love to hear if you ended up with any items that you never used – what were they and why didn't you use them?