Yesterday I had the pleasure of being a guest nursery design expert for Tinyhood, a fantastic website and app for parents and parents-to-be.  There's a huge library of experts on all different subjects from breastfeeding to sleep training to help with any issue you might be having.  During my session, I tackled all types of questions, from nursery floor plans to dealing with a small space nursery and we even delved a little into organic nursery items (my favorite!).  It was a blast, and I thought I'd share a few of the questions I received from readers.
Q: Our daughter is in a small room and we are looking for creative ways to store toys, books, and accessories without buying bulky shelving/storage units. Any advice for using wall space (going up) that's not dangerous?

A: Small rooms are definitely a challenge, but there are some great creative ways to make use of the space. One of my favorite items is wall ledges. They are like wall shelves, but much shallower so they don't stick out into the room. You can get many of them and stack them up the wall for books, small toys and picture frames. Just make sure they are installed nice and secure and you shouldn't have any safety issues. If you're worried about your daughter trying to climb up them, you can try starting the lowest shelf a bit higher than she can reach.

You can also get some small bins or boxes to tuck away under the bed or wherever you have the space. As far as your design and decor goes, keep it simple. You don't want to add anything that's going to visually take up too much space, or be too dark. Keep your colors light and bright. Adding mirrors is also a great way to add visual space and can make a room feel a lot larger.

One other option – If you have more space in the living room or another room in your home, you can get a storage ottoman or bench to keep toys in. I like these because they can function as extra seating in a living space, but you can also stash away toys. There are even some available that can function as a coffee table as well. Depending on the age of your child, you may have to drill some holes in the back for airflow.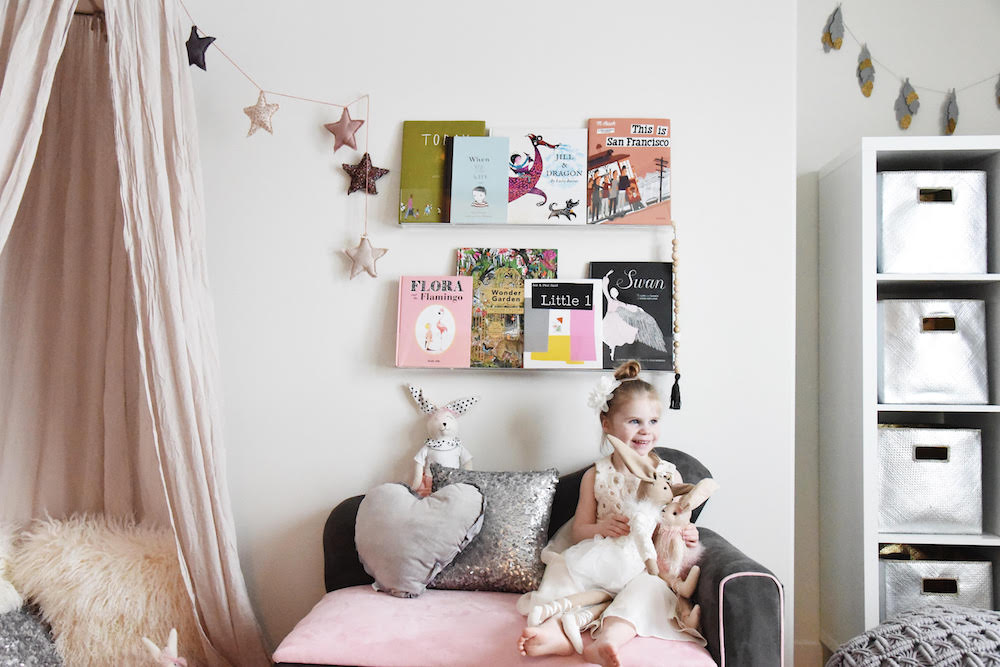 I also gave her some sources for my favorite wall ledges.  I've used some from The Land of Nod that I love, as well as these gorgeous acrylic wall shelves that I have in my own home.
Q: My daughter's room has a beige wall-to-wall rug in the room. I might eventually rip it out, but for now I would like to keep it there. Does it look OK to put another area rug on top of this rug or will that look silly?

A: I actually put area rugs on top of carpet all the time. It sounds odd, but it looks completely fine and also protects your existing carpet from stains. If you look through my portfolio online, you'll see a lot of rooms that have it. Layering rugs is also a trendy look and I've even seen multiple area rugs layered on top of one another. Go for it!
This question was followed up with some of my favorite rug sources, including The Rug Studio, Surya, and Safavieh.
If you'd like to read all the questions and answers, you can sign up for a Tinyhood account.   But beware, you might get stuck for hours reading through all types of fun expert advice.
If you missed the Tinyhood Q&A and you have nursery design questions you'd like answered, leave them below in the comments section.
The wallpaper trend just isn't going away.  When I first started as a nursery designer, wallpaper was still in the "scary" category.  A lot of my clients weren't sure about making the investment, and were afraid of dealing with the possible removal of the wallpaper down the line.  All fair points!  But the newer wallpaper patterns are so great that sometimes you just have to take the leap.  Also, many companies are making removable or peel and stick wallpaper, which are perfect for nurseries and kid's rooms because you don't have to worry about damaging your walls (or even just dealing with the elbow grease).
I love finding unique products to add to the Little Crown Interiors Shop, and these wallpapers fit all my criteria.  These patterns are beautiful, high quality, and they all come in either the traditional pre-pasted paper or removable options.  Let's take a look…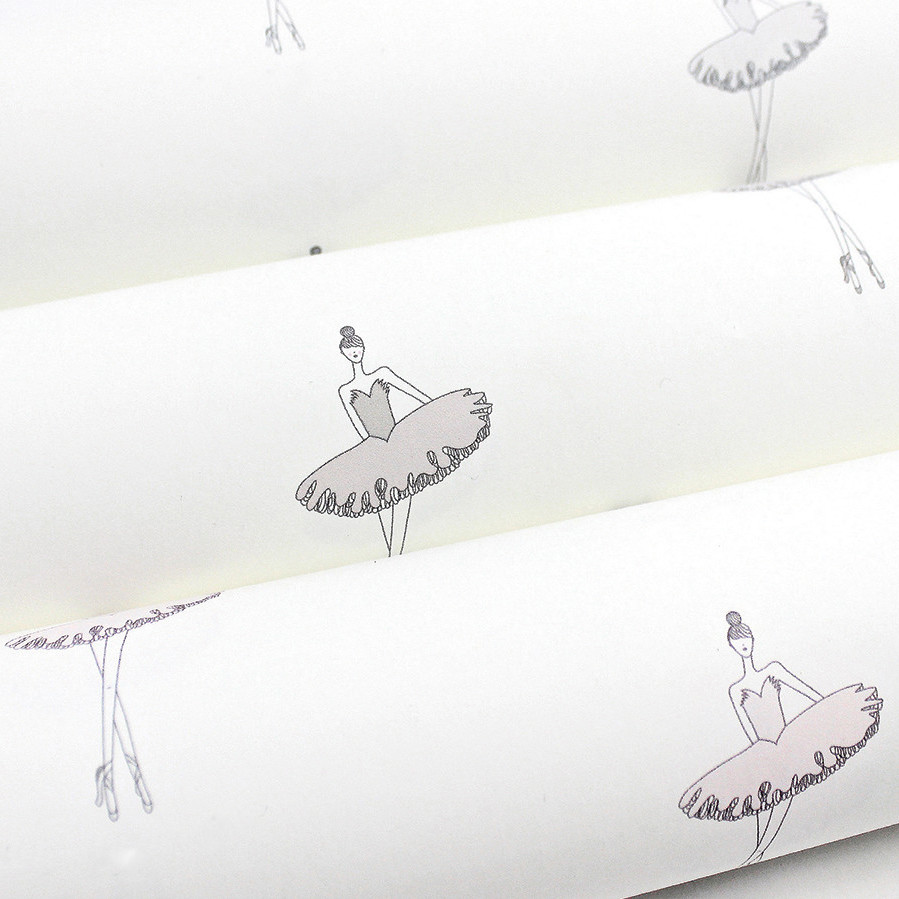 When I first saw this Ballerina Wallpaper, I was hooked.  I'm also partial to ballerinas because I grew up taking ballet classes and I still love the ballet.  The little hand drawn dancers on this paper are so sweet!  In person, the colors are absolutely gorgeous.  They are so subtle, but the tones are perfect and not too pink.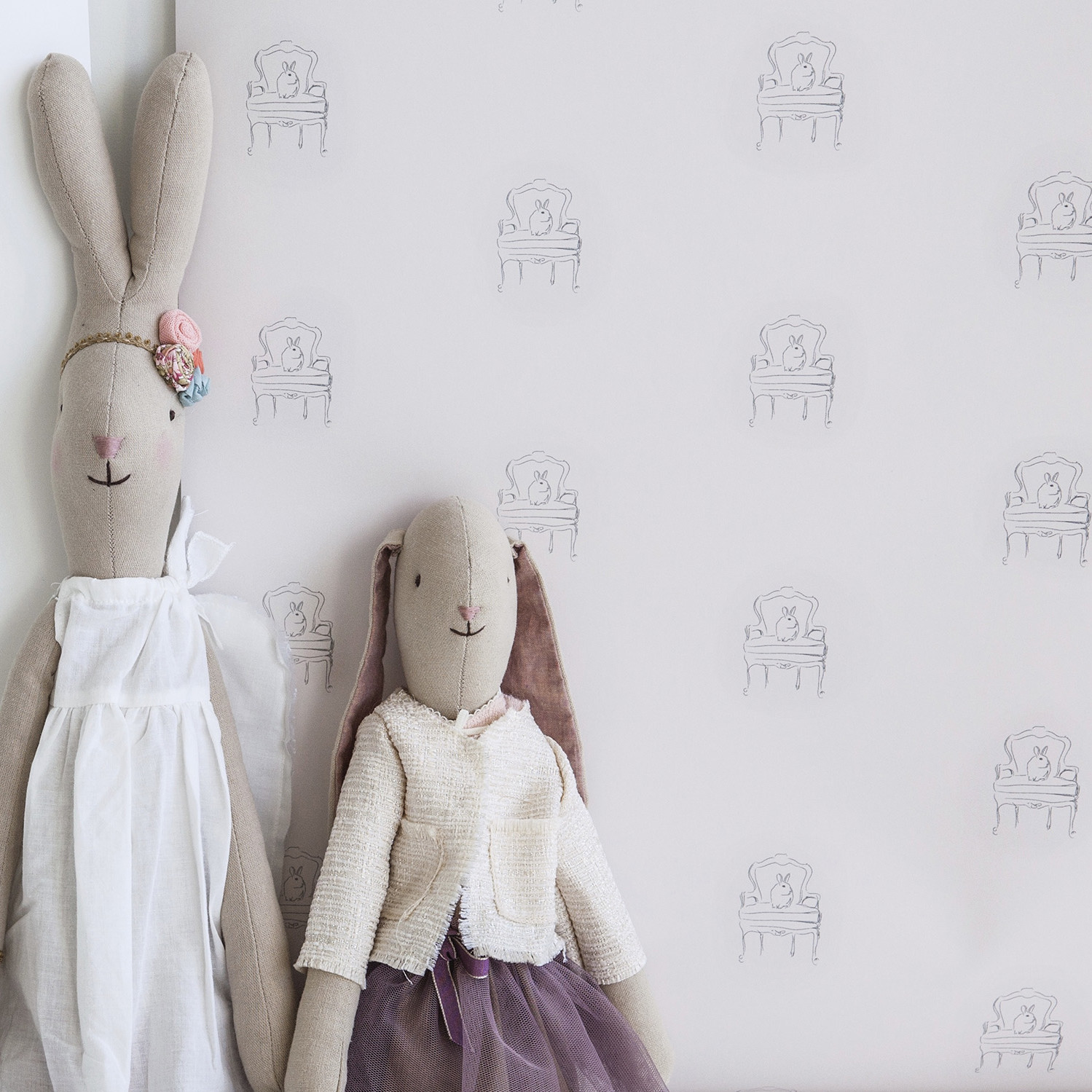 Same goes for the French Chair Bunny Wallpaper.  The hand drawn feel is so adorable, and the colors are so subtle that you could wallpaper all four walls of a nursery or kid's room and it wouldn't feel claustrophobic.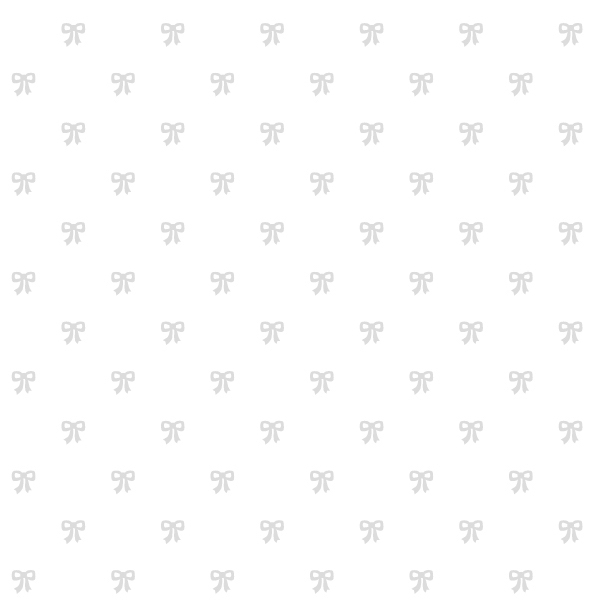 It's hard to tell by this photo, but the bows on this Tiny Bows Wallpaper are super tiny, like an inch.  I can just imagine how sweet this would look in a French style little girl's bedroom with billowy bedding and touches of black.  The bows are also silver, not gray, which adds that little touch of glamour.
To shop these new wallpaper as well as our bestsellers, be sure to visit the shop!
Last week was the JPMA Baby Show (Juvenile Products Manufacturers Association), right here in my Orange County backyard.  This is a bit of a smaller show compared to the annual ABC Show in Las Vegas, but there were still some great new nursery furniture brands as well as some other fun finds.  This is definitely one of the perks of being a nursery designer – I get to see all the newest brands up close and personal, which is important since I'm recommending these brands to my clients.
My first stop was Little Seeds.  I noticed their booth right away because it was designed in all black and gold.  Little Seeds is essentially a more affordable version of some of the designer nursery furniture companies you may have seen.  The gold metal crib and changing table collection above is taking inspiration from the gold trend that's everywhere right now.
Little Seeds is also creating modern crib designs, like the one above.  Again, it's definitely an homage to the higher end brands using beautiful hardwoods, but they've made it into a much more affordable option by using less expensive materials.
Next up is Kidsmill, a nursery furniture company out of the Netherlands.  I was charmed by their accents and their delicious Dutch cookies that kept ending up in my hands.  They are branching out to the U.S. with their sleek designs, and everything should be available this coming Fall.  And yes, they assured me that everything will be up to the U.S. safety standards (after all, this was the JPMA show which monitors safety guidelines).  I've always been a fan of nursery furniture that combines multiple finishes.  The collection above was my favorite from their line since it blends pure white with a medium tone wood with lots of variation.
I couldn't resist stopping at the Ubbi booth because it's just so darn colorful.  I've been preaching about the Ubbi diaper pail since it launched several years back.  I love that they have so many color options to match whatever nursery decor you've got going on, but they are also a legitimately quality product.  My favorite newer option they now offer is the eco friendly cloth liners, instead of trash bags.  I'm always in favor of less plastic in a nursery, not to mention less trash in the landfills.
Lastly, I stopped by the DockATot booth, mainly because it was just the prettiest thing I've ever seen.  They definitely get the award for best booth design, maybe of all time (and I've been to a lot of trade shows).  Right at the end of the video, you can see the new designs above the counter.  They're not on the DockATot website yet, but if you look closely, you'll see that the new patterns are amazing.  They've got dark florals, palm leaf print, and even cararra marble, basically every major trend of 2017.