Great interior design doesn't have to be limited to large rooms with tons of space. One of the most frequent questions I get from clients is how to design a small nursery space.  Typically, the nursery usually ends up being the smallest room in the house—oftentimes it's that room you use as the "junk" room that's half guest room, half office, half mess (pardon my math).  A full size crib can take up a lot of space, so one of the best options for really utilizing the space in your nursery is to get a small space crib, or a mini crib.  Luckily, there are a lot of beautiful options out there now.  Here are some of my favorites!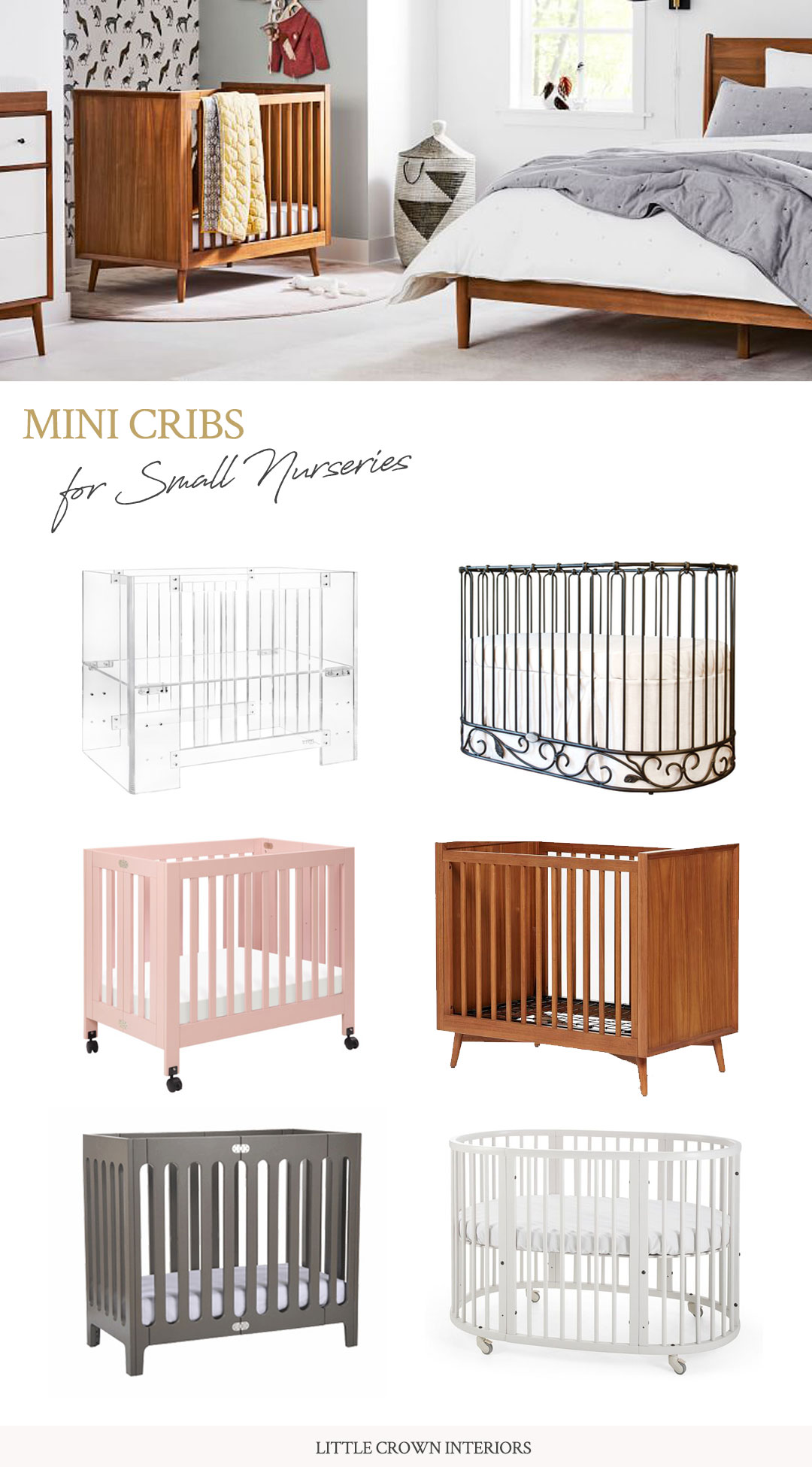 The Alma Mini Crib by bloom is designed for urban spaces and is all about style, mobility, and storage.  What I love the most about this is that the whole thing folds up into a super small piece that you can just stick in a closet.  You don't even have to take the whole thing apart either—it's very simple.  Simple = awesome.  It also has the option for a changing table attachment which sits right on top.  It's a very modern crib though, so if this isn't your style, keep on reading!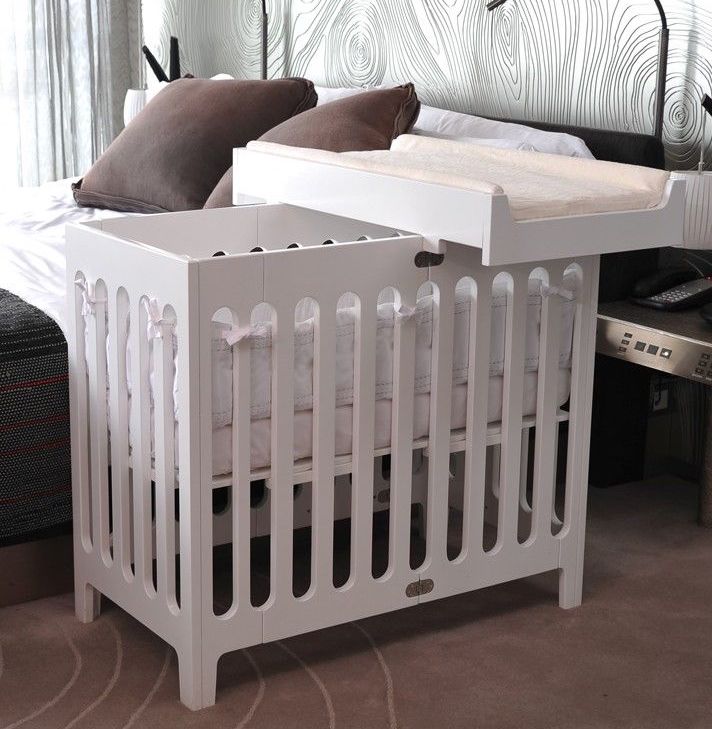 OK, another fairly modern crib, but this one is much more retro.  The Mid Century Mini Crib is from a newer line that West Elm released in partnership with Pottery Barn Kids.  To us nursery designers, the launch of West Elm's kids line was kind of a big deal.  Anytime a new brand comes onto the scene with new crib designs, it feels like Christmas (or Hanukkah, or Kwanza, or Tuesday—whatever gets you excited).  The fact that they offered a mini crib as well was just a bonus.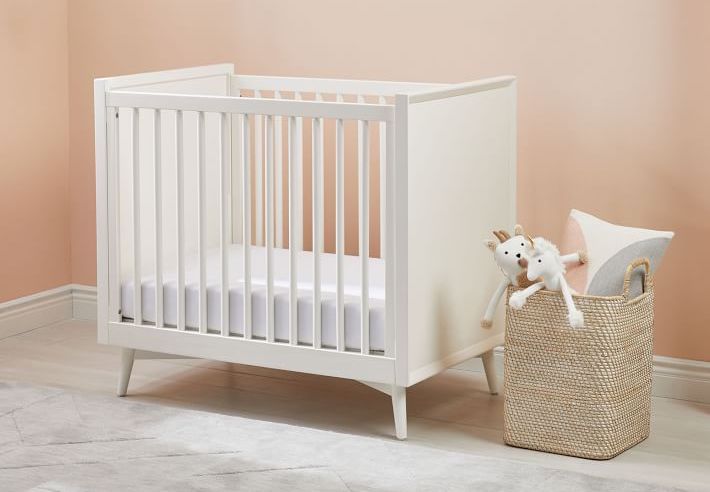 The J'Adore Crib by Bratt Decor is a much more traditional mini crib.  I still remember when I first saw this crib in person for its debut, and I was so excited to have another interesting option to offer to my clients.  Bratt Decor is known for their iron cribs that have beautiful detail and a gorgeous textured finish.  I love that this crib also has a low profile so it's easy to lean over (unless you're super tall).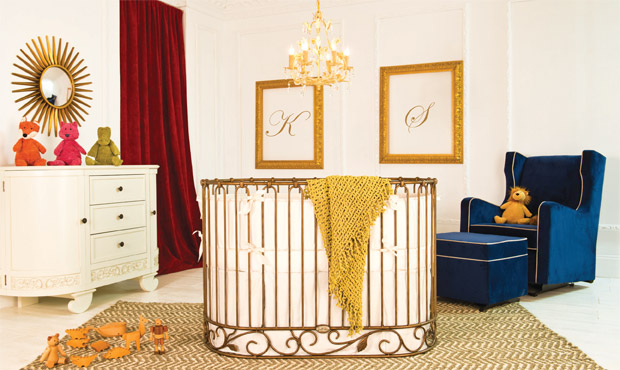 If you're not familiar with the Stokke Crib, you definitely should be because it's amazing. Not only does this crib grow with your child by accommodating his or her ever changing sizes and needs,  it's also a really great option to use in a small nursery.  It has casters, so it can be rolled around and moved very easily, or locked into place.  If your house has a lot of wood floors or flat carpet, the casters will be a lifesaver!  But if you have thick or shag carpet, it will be harder to drag around.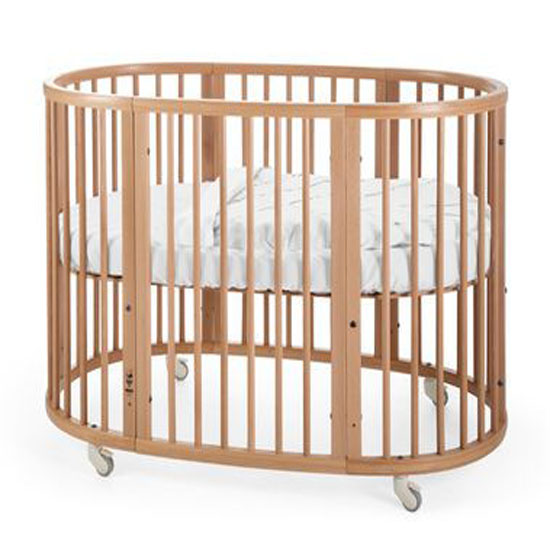 I happen to be an acrylic nut.  My dining chairs are acrylic.  I have acrylic bookshelves in my office.  I constantly suggest acrylic pieces to my clients.  So you can imagine my excitement when Nursery Works debuted an all acrylic crib.  Then they made the Vetro Acrylic Mini Crib as well, giving us acrylic-obsessed designers another option for small nurseries.
Another more modern style is the Origami Mini Crib from Babyletto.  This super functional crib folds in on itself like an accordion, and can be rolled right into the closet for storage, similar to the Alma Mini Crib I mentioned above.  This one is a bit simpler in style, and it's mega affordable.  It also comes in lots of fun colors, like this pretty blush pink shown above.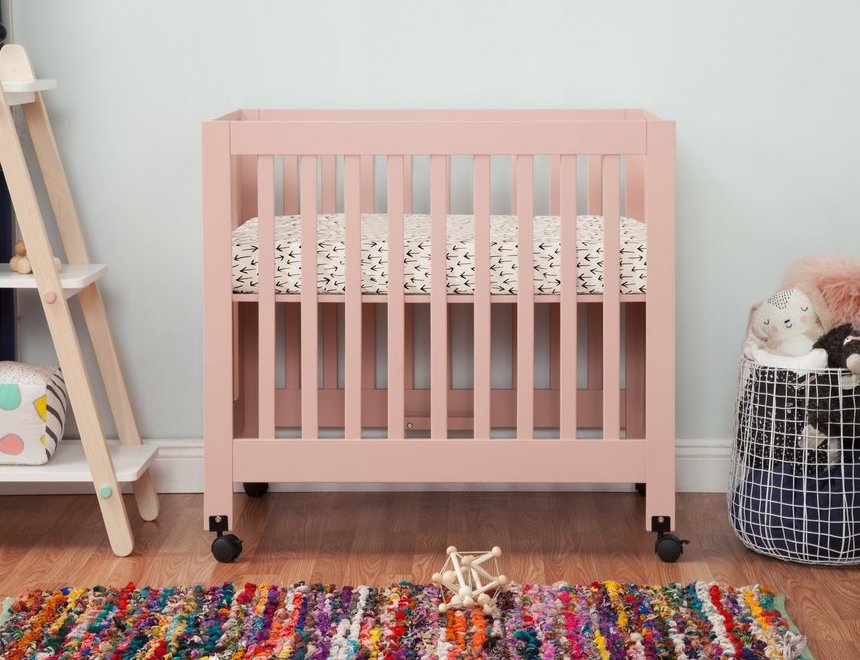 Mini cribs really are a fantastic way to create more space if you have a small nursery.  Just make sure to purchase the coordinating crib mattress and sheets too – regular ones won't fit!
A few months ago, the lovely Jessi Malay reached out to me for help designing the nursery for her daughter, Alessandra. They had just purchased a brand new home in Los Angeles and had a completely blank canvas to work with. The first time I saw the space, I was so excited to see the high ceilings and bright natural light (probably two of the most important things to a designer!).
We sat down and talked a lot about what she wanted to see in the space. She wasn't entirely sure, but knew she wanted lots of white, a crib with acrylic, and some type of statement wallpaper. I showed her an image of a girl's bedroom I designed last year with some pretty spectacular floral wallpaper and that was that! She fell in love with the wallpaper, and we were able to pull the whole design together after that.
Jessi loved the idea of an acrylic crib. We chose the Babyletto Harlow crib because it's modern, it's acrylic and it's white, so pretty much the perfect option for her. Jessi's nursery isn't huge, so we couldn't fit a wide dresser in here along with a glider.  Instead, we chose a medium-sized dresser from Newport Cottages and customized it with a white satin finish and gold hardware.
Almost everything else in the room I chose from Joss & Main. They have such a huge selection and happened to have a ton of items in the color scheme we were going for. I even found great little succulent plants and accessories there!
Jessi really wanted to have a little snuggle spot in the nursery too, so we created a little spot with lots of fun pillows and a soft faux sheepskin rug to play on.
Here's the design board I put together for her so she could really visualize the space before we started ordering everything.
Wallpaper | Crib | Dresser | Glider | Ottoman | Etagere | Mirror | Chandelier | Draperies | Rug | Gold Birds | Crib Sheet | Pink Heart Pillow | Pink Lamp | Faux Sheepskin Rug | Side Table | Love Pillow | Floral Pillow
Baby Alessandra had such a fun time playing around her new nursery! It was so fun to watch her explore and discover all the new things in her room.
You can see even more of the nursery, lots of behind-the-scenes video and plenty of embarrassing footage of Yours Truly over on Jessi Malay's YouTube channel.
Last Photo: Asha Bailey Photography
All Other Photos: Full Spectrum Photography
I get design inspiration from all over the place.  Sometimes it's obvious and makes perfect sense.  Other times something almost unnoticeable will sit in the back of my brain and wake me up in the middle of the night in a fit of creativity (that's fun, but I definitely lose sleep).
Designing nurseries means that I'm usually looking for ideas that will translate into youthful spaces, but it does not mean I don't still find inspiration in all sorts of things.  I just have to tweak them a bit more in my mind.
One of my favorite places to look for nursery inspiration is actually just regular "adult" interior design (and of course, by "adult", I just mean non-juvenile).  I tell my clients this too—they don't have to be limited to inspiration photos of nurseries.  We can pull inspiration and design elements from almost anything.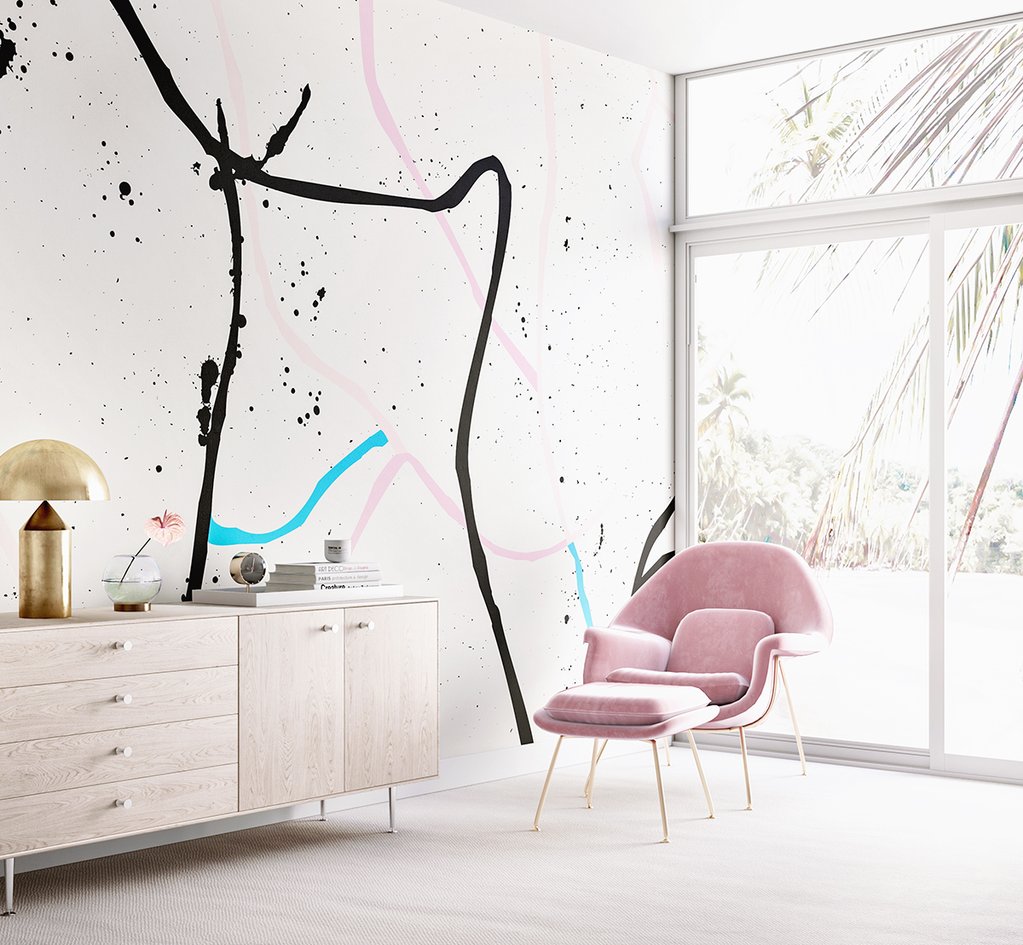 Recently I came across the photo above of a room designed by Drop It Modern showcasing their wallpaper.  Instantly my brain translated it into a nursery design.  The pink velvet chair could so easily be a pink velvet glider.  The light wood dresser could be a light wood changing table.  There's no crib in the photo, which means my imagination just gets to choose one.  The wallpaper is already so whimsical and fun!
I'm sure you can guess what happened after that.  That's right—I woke up in the middle of the night unable to stop the design from forming in my mind.  The next day, I put a nursery design board together.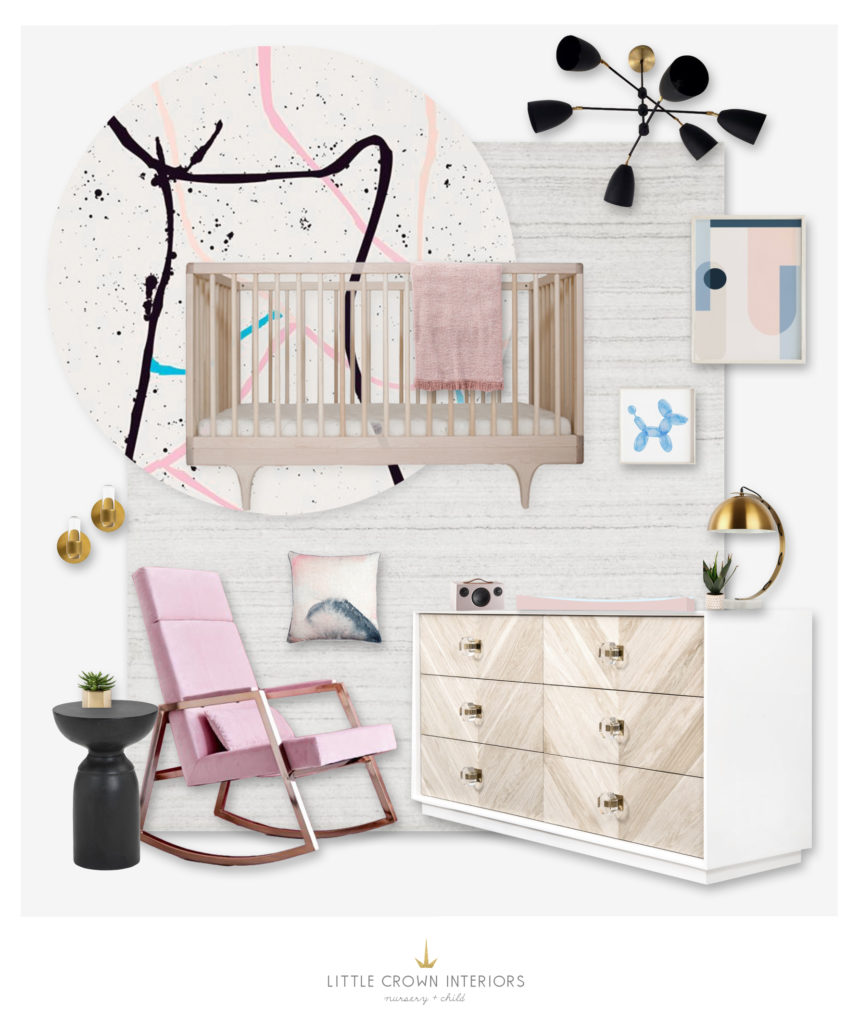 Don't worry, I won't leave you without all the sources for this.  And they are pretty great! (Unfortunately that pink rocker is already discontinued).
Wall Mural | Crib | Dresser | Side Table | Black Pendant | Abstract Art | Dog Balloon Art | Gold Lamp | Pillow | Pink Radio | Rug
These types of design boards are exactly what I do for my E-Design clients.  So if you're looking for professional help designing your nursery, I'll create one just for you.