Including a vintage piece or two in a nursery design can add character and charm.  The vintage market is bustling right now, especially for Mid-Century Modern pieces.  I'll use a vintage piece every now and then in a design, and it's always a fun process.
I was contacted by one of my favorite online vintage retailers, Chairish, and they asked me to put together a mid- century modern nursery design using only vintage pieces from their Mid-Century Modern collection.  That's certainly something I've never done before, mostly because of some of the safety issues you can read about below, but I was up for the challenge!
Every single item in the design below is from the Chairish collection, and almost everything is from the Mid-Century Modern era.  I kept the wall color and rug fairly neutral and the rest of the palette bright and fresh so it wouldn't feel like the back room of an old antique shop.  My personal favorite is the set of brass seagulls over the crib.  I just so happen to have something very similar in my living room, and they are glorious.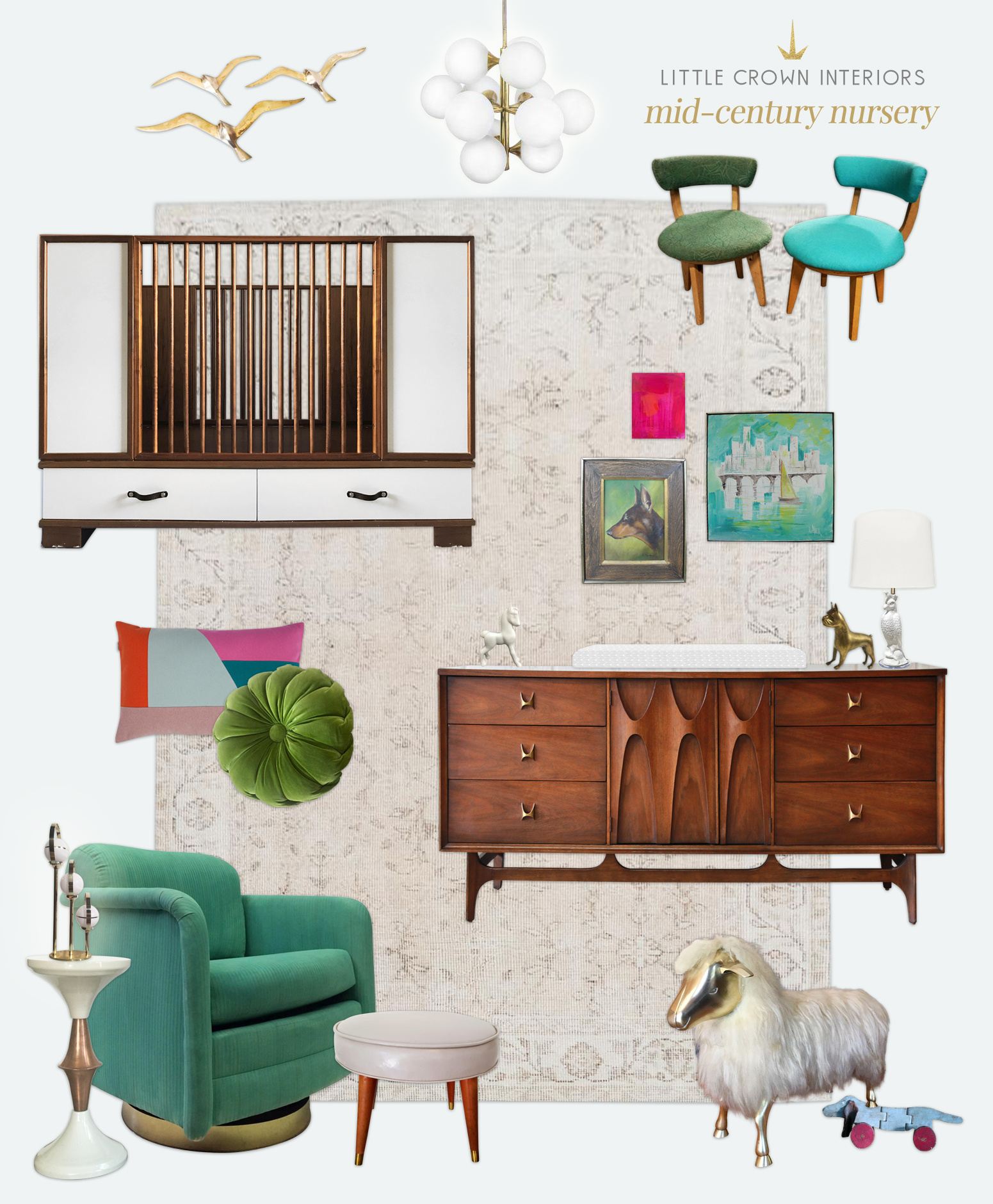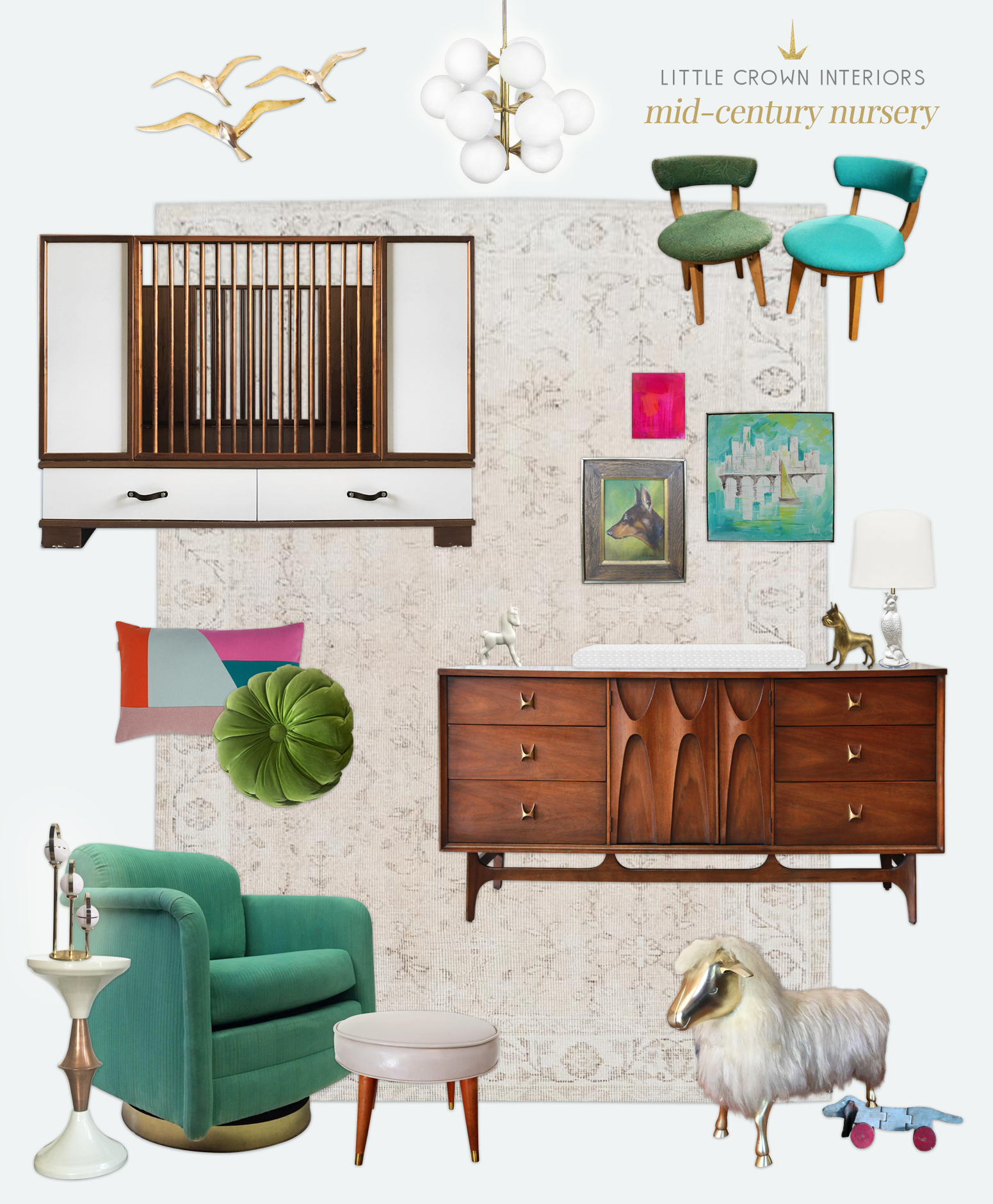 Crib | Brass Seagulls | Globe Sputnik Chandelier | Children's Chairs | Pink Painting | City Scape Painting | Dog Painting | Cockatoo Lamp | Brass Dog Figurine | Ceramic Horse Figurine | Dresser | Sheep Ottoman | Wooden Toy Dog | Ottoman Stool | Swivel Chair | Side Table | Gold Halo Lamp | Green Round Pillow | Color Block Pillow | Turkish Rug
Here comes the safety speech…
Are Vintage Items Safe for a Nursery?
Maybe.  There are definitely some considerations here, and there may be some additional research that needs to be done.  The two biggest concerns with vintage pieces are structural integrity and lead paint or chemical varnishes.  Make sure that anything you buy doesn't have any cracks, bows or other problems (think about your child climbing and pulling on everything).  Then, check all the materials and finishes (think about your child putting everything in their mouth).  Items with lead paint can have a special sealant put on them, but in my opinion it's best to avoid those chemicals as well.  Any upholstery or textile items should be thoroughly cleaned.
Is a Vintage Crib Safe?
The short answer?  No.  I tend to always be overly cautious here.  It's pretty likely that any truly vintage crib will not be up to current safety standards, let alone still be in good enough shape to maintain its structural integrity.  Then there's the issue of finishes like lead paint or chemical varnishes that are no longer used in the children's furniture industry.
The crib that's shown above is used, but not really vintage.  It's a newer model that's only a few years old, and meets all of the current safety standards.  However, I would still err on the side of caution because it is used, and you just never know what a piece has been through.
I would never recommend that anyone purchase a used crib (and this goes for hand-me-downs and heirlooms too), but if you're going to do it anyway, make sure to check throughly for all of these things:
The crib should have been manufactured within recent years and meets the current safety standards.  There were some major safety policy changes in June of 2011, so don't use anything made before that.  You can read about those safety standards at the CPSC.
Check for any crib recalls.  Use the CPSC website to check for your crib model and parts.
Make sure you have the instruction manual for the crib, and read it very carefully.  Check the strength of every single piece, including the slats, mattress supports, screws, bolts and other small hardware.  Every single piece needs to be accounted for and in excellent condition.
The mattress should be firm and have a snug fit inside the crib.
The width of the crib slats should be no more than 2 3/8″ apart.
About 2 years ago, I started getting emails from friends, family and colleagues asking why I didn't tell them I was secretly working on designing George and Amal Clooney's nursery.  I was so baffled by this because I had nothing to do with their nursery, nor did I even know they were expecting.  Many confused emails were exchanged until I figured out what had been going on.
It turns out they weren't even expecting at that time, but some reporter somewhere had made up a story about me designing the Clooneys' million dollar nursery, and it got plastered all over the internet.  I'm living proof that most of what you read about celebrities is probably not true.  If you search for "George Clooney Nursery Naomi Alon", there are many websites reiterating the same article, mostly UK based.  How they even got my name?  I have no idea.  Here's a fun excerpt from one of the articles:
"The couple has reportedly began construction on their Berkshire, England Mansion and according to a new report they are building a $2 Million baby wing."
"It will include a nursery, spa, mini swimming pool, children's library, two playrooms, and nanny quarters, an insider told In Touch. "They have already hired Los Angeles nursery designer Naomi Alon, and Amal is putting orders in at designer baby boutique Petit Tresor. Amal wants it to be a dream sanctuary!"
Nope.  Not even a little bit true.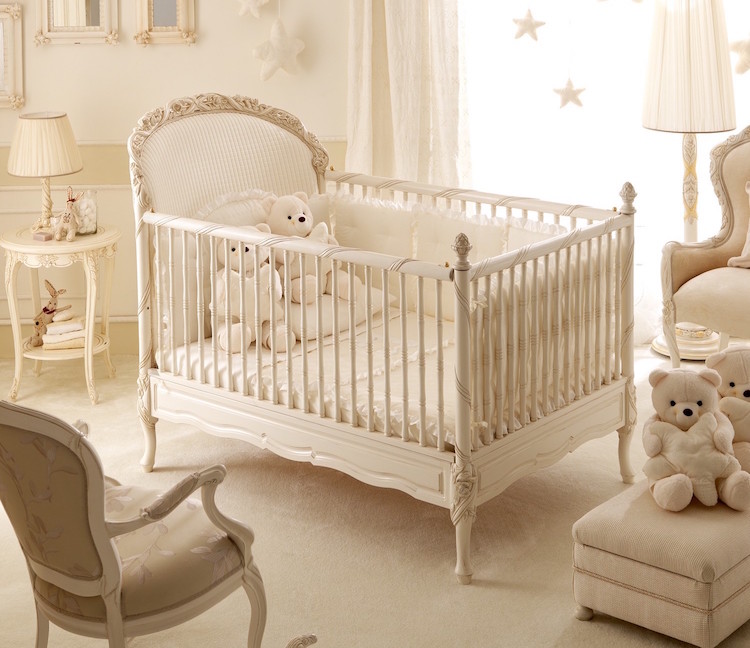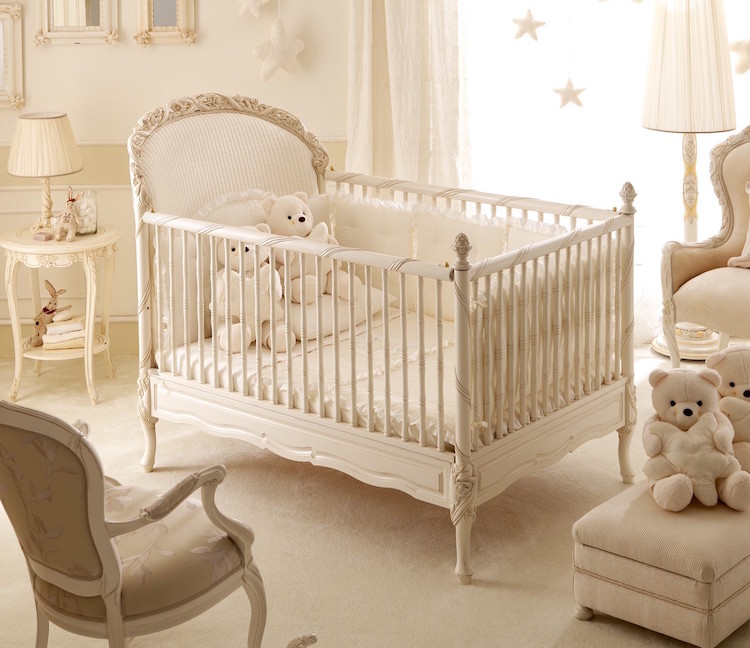 When I saw yesterday that the Clooney's had welcomed home their twins, it reminded me of this funny story.  Here's the thing though – I did a little internet searching to see what the articles are saying now about their nursery design, and the information is all over the place.  A few sites have mentioned that they purchased the Petit Tresor Notte Fatata Crib above, but who knows.  What have we learned?  Don't believe anything you read about celebrities.
I've designed a few celebrity nurseries before, for Laila Ali, Spice Girl Mel B., J.R. Martinez, and a few others that I can't name, but I definitely did NOT design George Clooney's nursery.  So there you have it, straight from the source.
I've been a nursery designer for over 10 years now, and I always aspire to find nursery furniture for my clients that is not only beautiful, but also has great function, quality, and provides a good value.  That means I do a heck of a lot of research and shopping so I can keep up on which brands are safe, which brands to avoid, and which brands have released the newest and trendiest designs.  Every now and then, I'll come across a piece that is truly strange and I think, "Who would ever buy such a thing?"  Of course there are people who buy such things, and I hope one day I will get to design a nursery for one of them.
Most of my clients choose to go with "normal" nursery furniture, but I have definitely had a few who went for something a little more out of the box, like the all acrylic Vetro Crib (still one of my all-time favorites).
Here are some seriously unique crib designs that I just can't look away from, and secretly hope that I get to use in a nursery design some day!
I came across the Shell Crib by Luke Miller Studio while I was browsing on 1stDibs, a high end antique and vintage retailer.  I immediately stopped and stared at it with surprise for two reasons:  1. The design really is beautiful, despite its strangeness.  2. The unbelievable $18,000 price tag.  Being in the interior design field, I am certainly no stranger to luxury and high priced items, but this is by far the most expensive crib I have ever seen.
I first saw the Gradient Crib by Nursery Works when it was debuted at an industry trade show.  Since the nursery furniture niche is so small, oftentimes I will see similar designs popping up within various brands, and it's clear that everyone is taking influence from each other.  But not Nursery Works.  They have always been a design pioneer, taking risks with edgy and unique crib designs that can't be seen anywhere else.
I typically stay away from nursery furniture brands from outside the U.S. because of issues with safety standards (especially with cribs).  That said, I still like to look at the great designs coming out of Australia, Europe and even Dubai.  The Wood Cot by Oliver Furniture is made in Denmark, and has that fun Scandinavian look that's so popular these days.
There's something to be said about an entirely custom crib.  The designers behind the Domani Cotbed by Tomas & Jani wanted it to have a boat-like feel, but also wanted to it to have storage underneath, and be able to convert to a toddler bed, and then to a small sofa.
What do you think? Would you ever put a crib like this in your nursery?
[This piece was adapted from my original post for Project Nursery]