I know—this blog post doesn't have any photos.  Don't freak out!  It's a good read, I promise.
One of my tasks as a nursery designer is to write a monthly article for Project Nursery.  I have an insanely long list of ideas saved on my computer.  It's…overwhelming.  Sometimes I get these spurts of creativity and write down ideas for this and that which make for too many options at the time when I might actually use those lists.
So this month, I used a different source of inspiration: my girlfriends.  There's 7 of us on a continuous group chat (and yes, it's every bit as hilarious as you'd hope).  I posed a simple question to them—what were your biggest nursery concerns when you were pregnant for the first time?  What did you worry about?  What kept you up at night (aside from the hormones, the belly, the back pain, etc.).
I got some really wonderful and thought-out answers that reflect what I'm sure a ton of new parents go through the first time around.  So I ran with it, and centered my article around their responses.  Then, we opened up the conversation to Project Nursery readers on Instagram and got even more insight!
Here are the questions I wrote about for Project Nursery:
I see so many products out there—should I believe all the hype?
This is a big one, perhaps the biggest concern I get from clients. We live in the age of social media, and we are being constantly marketed to at every turn. How do you know if that item you keep seeing in your feed is really worth it? My answer is generally a little odd for an interior designer, but I tend to direct my clients to err on the side of minimalism in these situations. I'll help them make a list of the things they absolutely need, then the things they want, and then anything else can go on a list to be consulted later if the need arrises. Every person you know with children is going to tell you to get such-and-such must-have item, but only you will know what your baby needs and what you want. I say listen to your gut, even if it means waiting until the baby is born to feel things out. This is where Target and Amazon Prime come in handy!
Does the nursery need to function as a playroom too?
Sometimes the nursery will end up also functioning as a guest room or office for space reasons, but a lot of clients ask me if they need to save room for playing. This is a tricky one, because it can depend on the personality of your child along with how you develop your routine around playtime (and this can't always be planned). It's always a good idea to have open floor space with a soft rug for playing in the nursery, but I wouldn't say you need to have a full play space in there. Again, this might be a wait-and-see scenario, and you can always add things later. Who knows, your child might end up preferring to play in the living room, or you might want to have them play near the room you spend the most time in.
How much nursery storage do I need?
I have clients who could fill a whole walk-in closet with baby clothes, and others who prefer just a small basket of toys. If you like to shop and know you're going to want lots of clothes and toys for the baby, just make sure you have a place to put them. The size of your dresser will likely be determined by how big your room is, and a lot of it will be filled with diapers and burp cloths. I like to think of this one a bit backwards—figure out what areas in your home you want to designate as storage spots (include the nursery too, and don't forget about bathroom and feeding items) and then only buy things that will fit in those areas. It's true that there are ways to add more storage to the nursery, but you also don't want a room that's stuffed with shelving.
How do I know that everything is safe?
Nursery safety is extremely important, and should definitely be something you spend a lot of time researching. Luckily, you won't have to worry about the baby moving around for a while, but there are still some concerns aside from that. When it comes to baby proofing, consult a professional if you can. Otherwise, I always recommend getting on the CPSC mailing list for safety alerts, and doing diligent research into baby safety. There are other "dangers" lurking around though, such as chemicals and toxins, and these are important to address as early as possible. Mind Body Green has a great article on this, which you can read here.
Here are a few of the questions I got asked by the readers.  My responses were on Instagram Stories in video format, and short, but I've typed them out for you below.
What are the best tips for living in small spaces/apartments?
For a small space, you're definitely going to want a bassinet or a mini crib.  Then you can use the walls for vertical storage, under-bed storage, and make use of multi-functional items.
Where can I find non-frumpy gliders?
My favorite places to shop for non-frumpy gliders are Monte Design, Babyletto, the Project Nursery Shop and even Wayfair.  There are a ton of options online!
Am I totally crazy for not finding out the gender and trying to design a nursery?
Tons of people are doing gender neutral nurseries nowadays, and there are so many design options out there now.  You can totally do it!  And no, you're not crazy.  Some of my favorite rooms that I've worked on lately have been gender neutral.
How can I make my nursery feel larger?
One of the best things you can do to really open up a space is to use mirrors—they really reflect light (artificial or natural light).  Just make sure that they're safe, especially if you're hanging them over a dresser or other furniture.  DON'T hang a mirror over a crib!
What other big questions or fears did you have?  Anything not on this list?
Here's a little secret of mine—the thing I love most about my job is creating nursery design boards and renderings.  I will get completely sucked into Photoshop for hours, forgetting to eat, fully absorbed in the fun.  It's monotonous, tedious and requires me to lean in with my face inches from my computer screen trying to perfectly trace the edge of an item, probably damaging my already terrible eyes.  But I do it anyway (you're welcome, Lens Crafters).
Anyway, Pottery Barn Kids recently partnered with West Elm to create the West Elm + PBK collection.  That was awesome, and humanity gained some much needed Mid-Century Modern children's decor.  But then, THEN, Pottery Barn Kids released another line, PB Modern Baby, with a whole slew of new nursery furniture and decor that not only includes Mid-Century, but also touches of Hollywood Regency, Minimalism, and even Art Deco.  Always wanted a Great Gatsby inspired nursery?  Well, now you might actually be able to pull it off since a black crib with gold detailing exists in the world.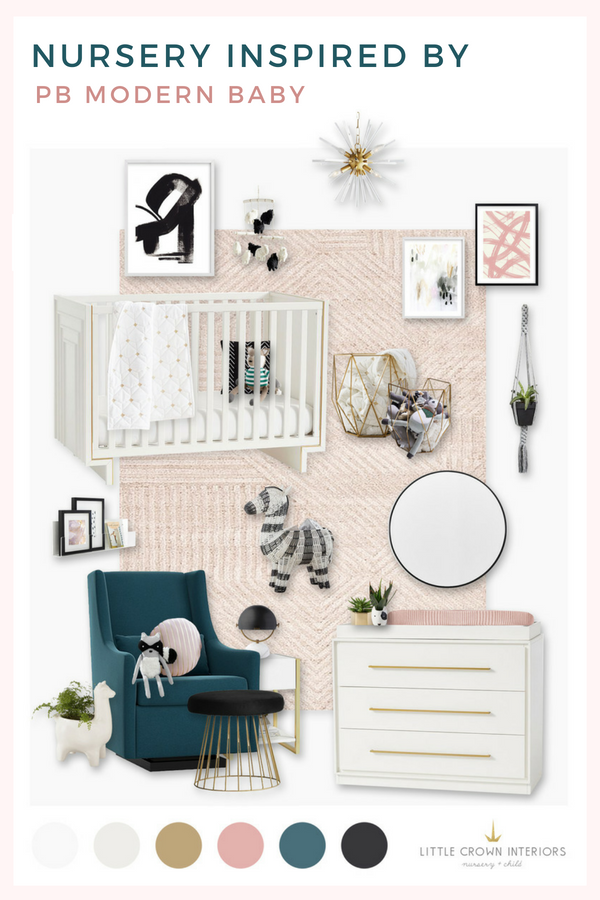 This is great for me, really great.  As a nursery designer, I'm constantly fighting against the "catalog" look.  In the past, I would avoid certain brands because I didn't want my clients to say, "Oh, that looks like page 43 from the Such-And-Such catalog."  But some of these brands have been seriously upping their game lately, widening the scope of styles they offer and even being a little risky with new and original designs.  This is great news for my clients too, since they can get great style and a unique look without spending a bloody fortune.
So, this is why I spent several hours creating a nursery design board inspired by this new collection.  No, I'm not being paid for this (although I wish I was!).  I just genuinely enjoy spending my free time being a Photoshop nerd and ruining my eyes for your benefit—you're welcome!
Design Board Sources: Crib | Dresser | Glider | Ottoman | Chandelier | Mirror | Rug | Side Table | Table Lamp | Black & White Art | Pink Abstract Art | Pastel Abstract Art | Acrylic Shelf | Zebra Bin | Round Pillow | Black Pillow | Metal Baskets | Sheep Mobile | Quilt | Changing Pad Cover | Raccoon Doll
It's time for another design reveal! This nursery was so fun to create, and I just love how soft and subtle it is.  When this client contacted me, she knew she wanted something neutral and serene, and she loved animals. She hinted at the idea of a wallpapered accent wall, and of course, I convinced her to wallpaper the whole space—in something subtle, of course, with a soft enough pattern that it wouldn't overwhelm the space.
It took a while to choose the wallpaper since it needed to be mellow enough so as to respect the serene tone, and it also had to have an animal pattern (but nothing too juvenile so the wallpaper can last many years). We settled on the perfect pattern that had a hand-drawn feel and was grown-up enough to be versatile.  I wrote a post a while back about the process of choosing said wallpaper, along with some of the alternative options, in case you're interested.
I chose a gorgeous neutral furniture collection that has a slight rubbed finish to add some warmth and texture to the space. The small iron details also add a touch of masculinity to pair with the very subtle pale blue accents.  This nursery was for a boy, but we wanted it to feel very general neutral so everything could be used again for the next child.
Any animal-themed nursery has to have these baby animal photographs, and my client was in love with them from day one. Half the fun is going through all the options and choosing the right combination of animals. Of course, these are framed with plexiglass instead of real glass since they are hanging over the crib, and they are very well secured to the wall.
I love the combination of taupe and gray. It may sound like two neutral tones will compete, but they actually work so well together, especially since the wood flooring has so many variations of color. We also pulled in elements of ivory and white. We used one of my all-time favorite gliders—every client I've suggested it to loves how modern it is while still remaining cozy and comfortable.
Wall ledges are such a great option for books because they also make use of the books as an art display. I paired the books with some little art and decor pieces to pull the look together.
This nursery, like most, isn't a very large room, so I opted to add a mirror over the changing table which helps to open up the space and bounce light around the room. I love how it reflects the rope light fixture as well.  Lastly, I always try to sneak in some greenery if at all possible, and these little wall vases were the perfect way to do that!
To see even more photos of this space, check out my portfolio.
Images by Full Spectrum Photography
SaveSave