Any interior designer will tell you that there is always that one special piece in any room that gets all of the attention.  In a bedroom, it's usually the bed. In a living room, perhaps the sofa.  In a nursery, it's the crib.  When I first started out as a nursery designer over 10 years ago, there were very few options for cribs available. There were your standard catalogs (you know the ones), the Babies'R'Us lines, and then a few very expensive independent brands, and that was about it.  Just 10 short years later and there are so many furniture companies making cribs—amazingly designed ones at that.
A lot of my clients say they want a crib that "doesn't feel like a cage".  I think that saying comes from so many years of boring cage-like crib designs.  Now cribs are utterly luxurious and I bet there are many adults out there who secretly want to sleep in one (definitely not referring to myself here!).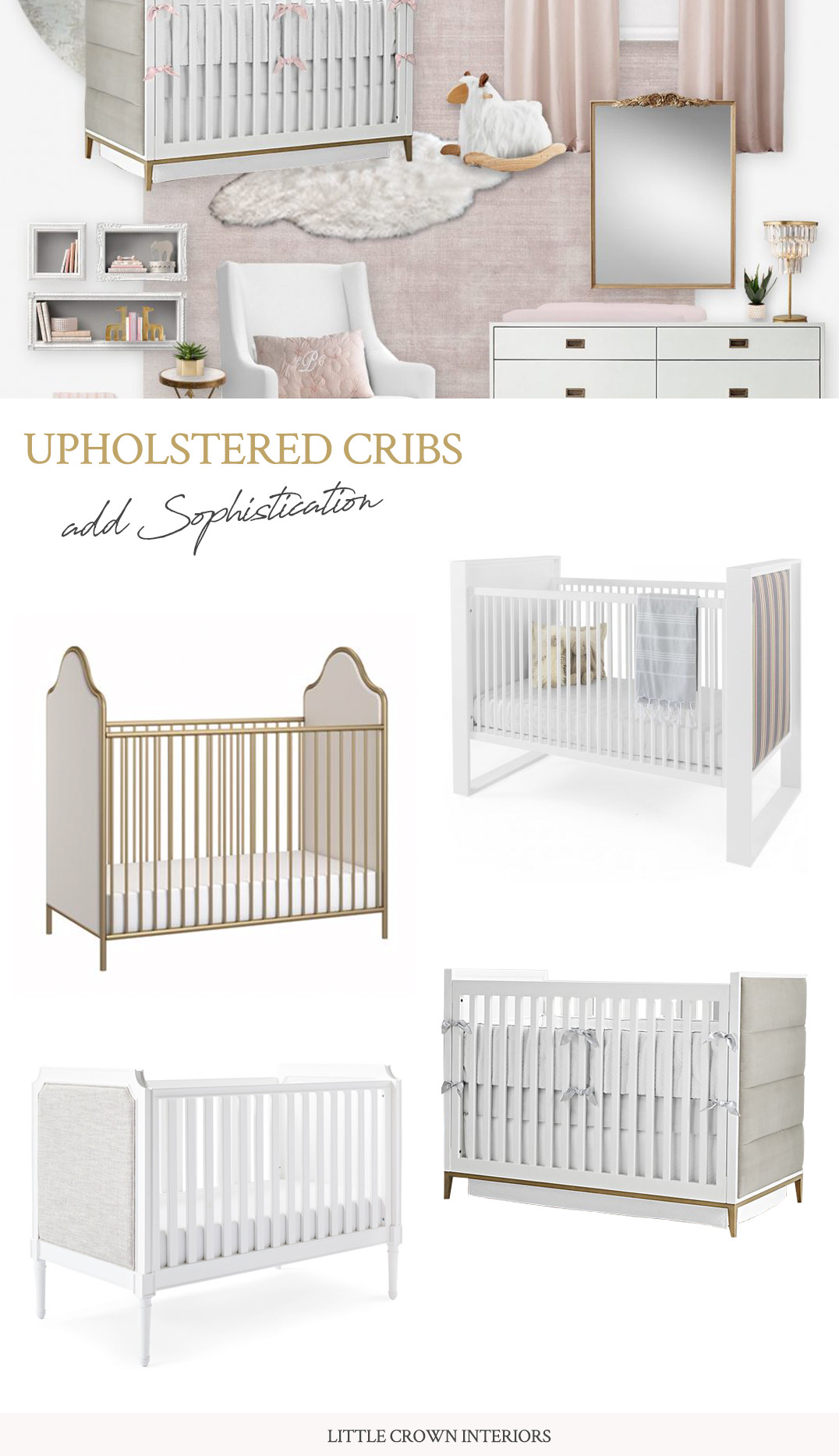 One of the ways that crib companies have been bringing more sophistication to nursery furniture is by offering an upholstered crib. There are some brands, like Restoration Hardware, that make a ton of upholstered cribs, and others that just have one to fill out their line. I'm a huge fan—upholstery adds so much warmth and sophistication to a nursery.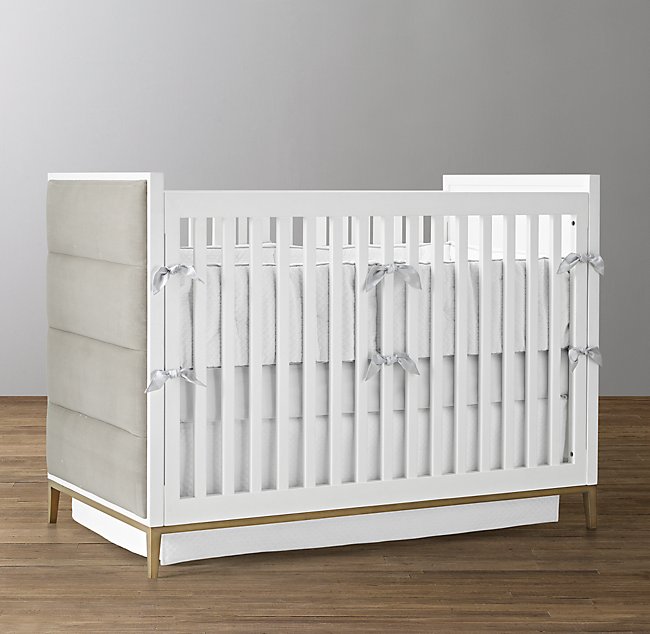 I just finished working on a nursery e-design for a client that loved the Loew Upholstered Crib from Restoration Hardware. She was torn between this one and a more traditional style crib, but eventually went with the more modern look. I particularly love this design because it's right on the edge of modern and traditional, and could be used in either type of design. Versatility is super important in nursery design because the furniture often gets reused, so I like sourcing pieces for my clients that will last.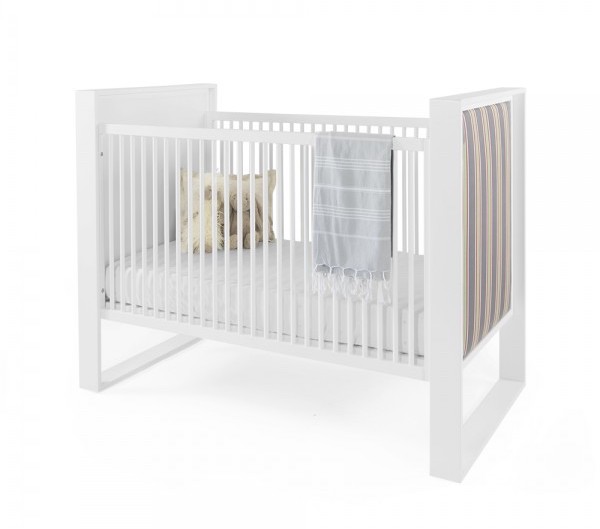 Another more masculine (and more modern) option for an upholstered crib is the Parker Upholstered Crib by ducduc. This one definitely has a sleek body style, but the best thing is that the whole crib is customizable—ducduc has a ton of color, wood and fabric options so you can really have some fun. I sometimes get distracted just playing around with all the customization features. Pinterest addicts beware.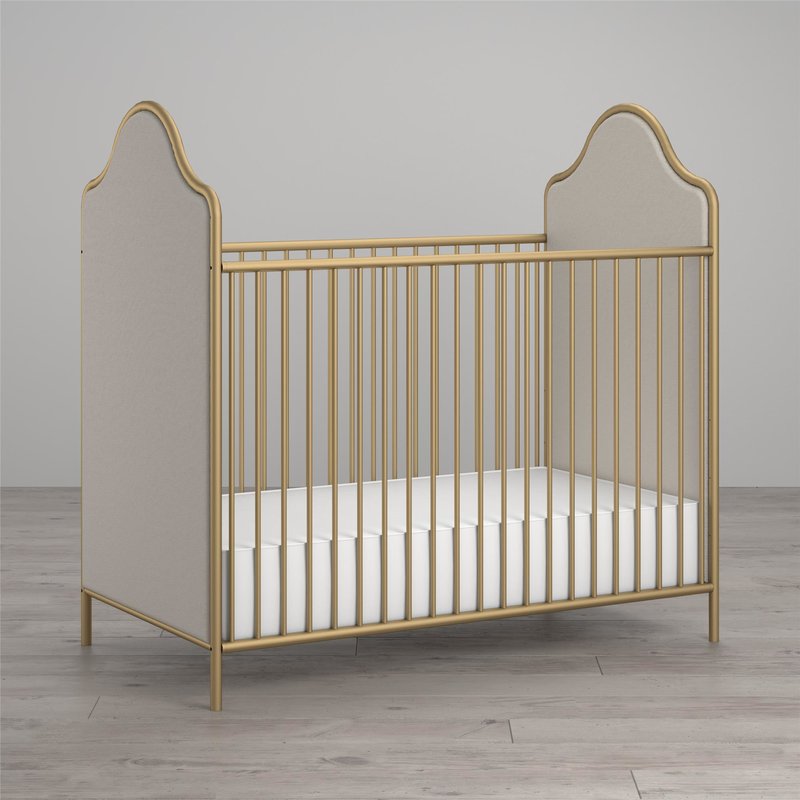 A few years back at a trade show, I came across this newer brand of affordable nursery furniture called Little Seeds. They make this really sweet gold upholstered crib that I've been asked about a lot from clients. The retail price on this one is very reasonable! The finish is a light matte gold rather than a bright brass gold. This one is a great option if you're on a budget.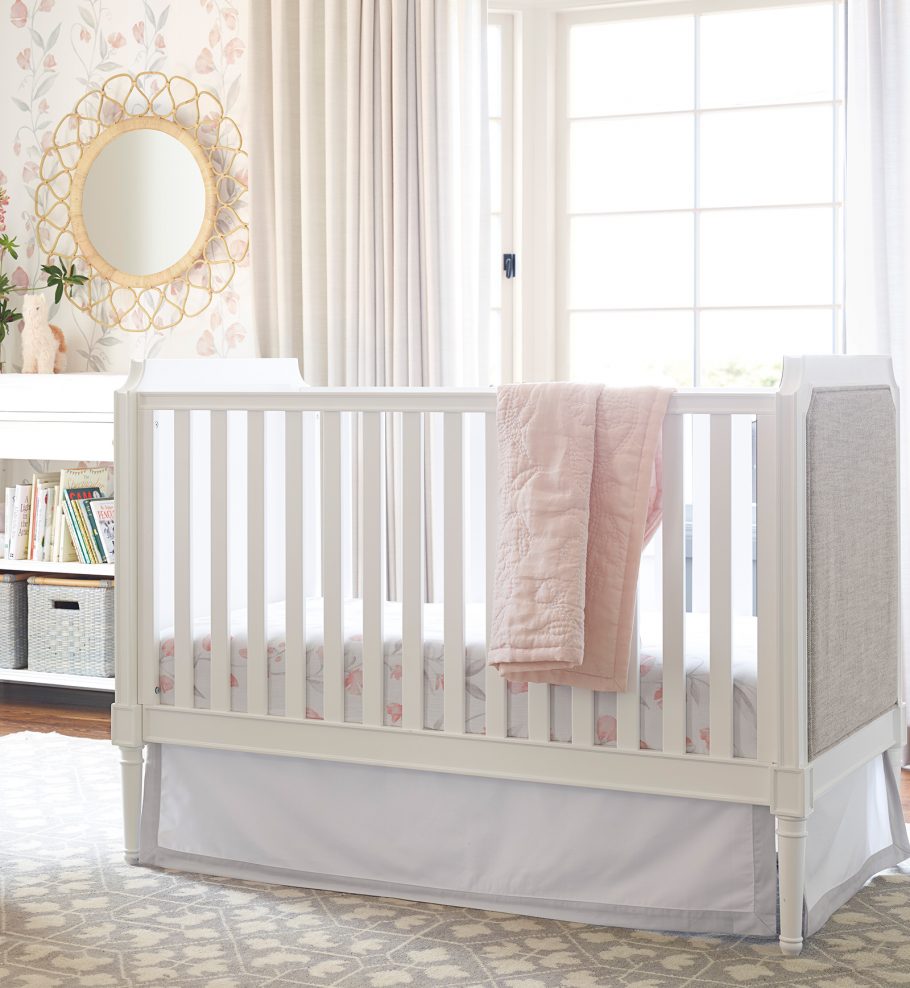 Serena & Lily has been in the furniture game for a long time, and they used to be THE place to shop for crib bedding. In 2018, they released a new line of nursery furniture that has their signature style. One of the new additions is the Harbour Cane Upholstered Crib which has subtle detailing and simple fabric panels. I love the simplicity of this piece.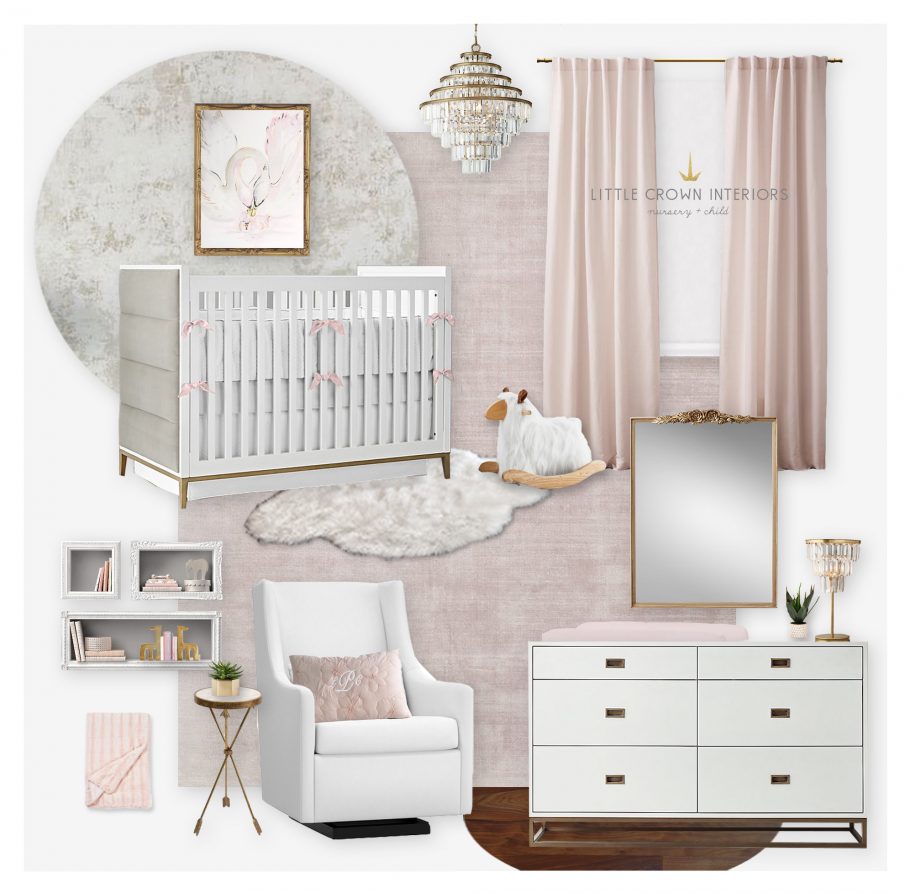 Above you can see a nursery e-design I did with that first Loew Upholstered Crib from Restoration Hardware. Granted, a lot of the items in this nursery are also from RH, but I still love how seamlessly everything flows together. There are both modern and traditional elements in this space (and her home was on the modern side). Having that little touch of fabric on the crib really brings the sophistication level up a notch!
Over the past few months, I was working on a nursery design for Jenna Kutcher.  If you're not familiar with her, she's an incredible role model—a photographer, entrepreneur, podcaster and advocate for women, body positivity and inner truth.  She's exactly the right kind of person we need right now, showcasing herself and her life in an honest and sometimes brutally brave way on social media.  She's talked openly about events in her life, such as being judged because she's married to someone who's "better looking", struggling with fertility and the loss of two babies via miscarriage.  Real shit.
After years of trying to conceive and suffering two miscarriages, she finally got pregnant and announced it to the world.  That's a lot of pressure (which of course she's shared about as well).  I had the opportunity to work with her on designing the nursery, and it was quite the experience.
I've worked with plenty of parents that had risky pregnancies, complicated adoptions and pregnancies post-miscarriage.  Some even go so far as to have me design the whole nursery, but not actually purchase or install anything until after the baby is home safe.  Pregnancy is scary and uncertain and stressful and exciting and miraculous!  I think these things are so important to talk about, and I love that Jenna is doing it.  Because at the end of the day, thousands of women and families are going through the same thing.
Jenna and her husband decided not to find out the sex of the baby, so I knew I was going to create a gender neutral nursery.  Since Jenna lives in Minnesota, I did an E-Design for her.  I created her floor plan, made a design board, sourced all the items and gave her instructions on all the DIY elements. They were so excited and her husband, Drew, really wanted to be involved.  He installed the wall molding, built the crib and hung the wallpaper!
I chose all of the nursery furniture from the new Pottery Barn Modern Baby line that was launched recently as part of the Pottery Barn Kids and West Elm brands.  Since their home had both farmhouse and modern features, I selected a crib and dresser that had elements of a mid century modern look, but that also had a rich wood texture.
Jenna really wanted wallpaper in the nursery and had seen a photo online that had it framed inside of wall molding.  I helped her select wall molding that coordinated with the farmhouse-style molding already in the room, and then picked a neutral and playful geometric wallpaper to install inside.  We kept a balance of whites, creams and other neutrals and added color mainly with the accessories and plants.  She wanted the space to really feel calming, relaxing and breezy.
I am so glad that I was able to be part of this amazing journey with Jenna, and with all my clients going through this incredibly challenging and exhilarating time in their lives.  It makes me so happy to know that I can be there for them—to ask me questions they may be embarrassed to ask their friends, to feel confident knowing that someone is there to help with design decisions and safety concerns, to not judge them when they freak out at 2am and send me 7 emails.  This is why I do what I do.
You can see more photos of the nursery in my design portfolio.  All photos by Jenna Kutcher.
Here are all the nursery sources:
Crib | Dresser & Changing Top | Glider | Side Table | Ottoman | Sheep Rocker | Round Mirror | Wallpaper | Giraffe Bookends | Wall Ledges | Crib Skirt | Rug | Dresser Lamp | Globe Pendants | Floor Lamp | Woven Bins | Throw Pillow | Rainbow Tapestry
I am not your typically girly-girl.  When I was growing up, I had two older brothers who were more of an influence on me than my older sister was (I think I was just rebelling against her, because you know, sisters).  I ended up in this strange space somewhere between tomboy and girly, and it wasn't until I was an adult that I started openly indulging my feminine side.
In this day and age, we have so many options for our little girls, and not all of them are overly girly.  This is great for me, considering I grew up in a room plastered with 80's floral wallpaper that I hated (click here for floral wallpaper that I do not hate).  I begged my parents to remove that wallpaper for years.  So now that I'm a nursery designer, and an adult, I have so many more places to look for girl's nursery inspiration.
When I'm working with a new client on a girl's nursery, I usually have them send me a few of their own inspiration photos first.  These are typically from Pinterest or Instagram.  That gives me an idea of what my client's style is, in addition to a lengthly questionnaire I have them fill out.  Then I scour my own sources for more inspiration which will help me pull together my design concept.  Pinterest and Instagram are pretty great, but I have some other sources that I like to visit to find girl's nursery inspiration that you might not have thought of.

Where I look for girl's nursery inspiration (we'll start with the obvious ones):
1. PINTEREST.  I like to start with the photos that I've already saved.  I do so much online shopping and sourcing for my clients, that I find all sorts of great furniture and decor and just pin it to look at later.  If you follow me on Pinterest, you'll see that I have a ton of nursery inspiration as well as kid's, furniture, decor, etc.
2. INSTAGRAM.  I follow so many nursery decor brands, furniture vendors, bloggers, etc., that my feed is pretty much a constant stream of nursery inspiration.  If you don't know who to follow, you can always cheat and just follow my account and then see who I follow.  A few of my favorite accounts that post a lot of nurseries are @projectnursery, @babyletto and @decor_for_kids.
A few more nursery inspiration sources that aren't so obvious:
3. "REGULAR" INTERIOR DESIGN.  I've talked about this a lot.  There is no reason that you can't take nursery inspiration from a photo of "adult" interior design.  Even if there is no crib or juvenile elements in a space, you can still take inspiration from the color scheme, furniture style, and other design elements.  Take the image below—can't you just imagine how cool that wallpaper would be in a nursery?  Paired with a pink velvet glider?   If you can't visualize it, check out my post where I created an entire nursery design board inspired by this living room space.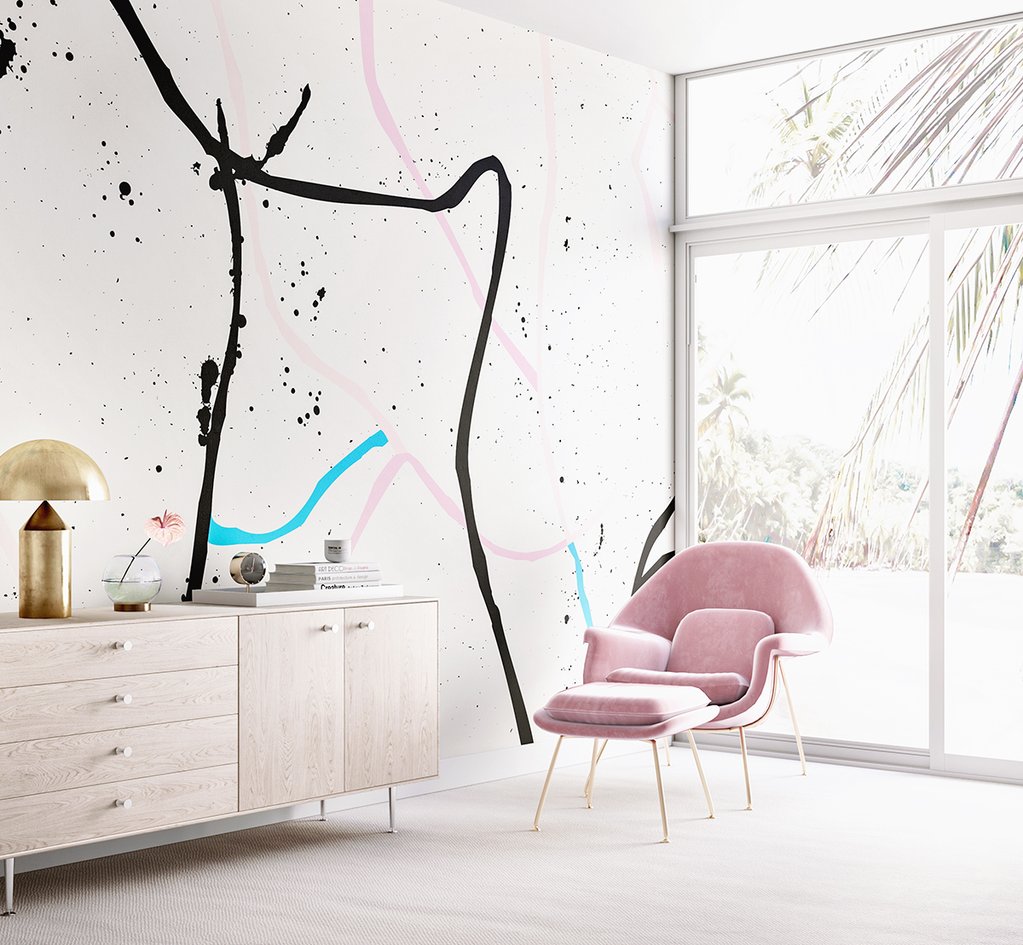 4. DESIGN SEEDS.  I absolutely love browsing this website.  A girl's nursery doesn't have to be limited to pink tones. Design Seeds has every color combination under the sun, and it's all organized in a way that will make sense to your brain.  If you have trouble visualizing how colors will go together, definitely take a look at this site.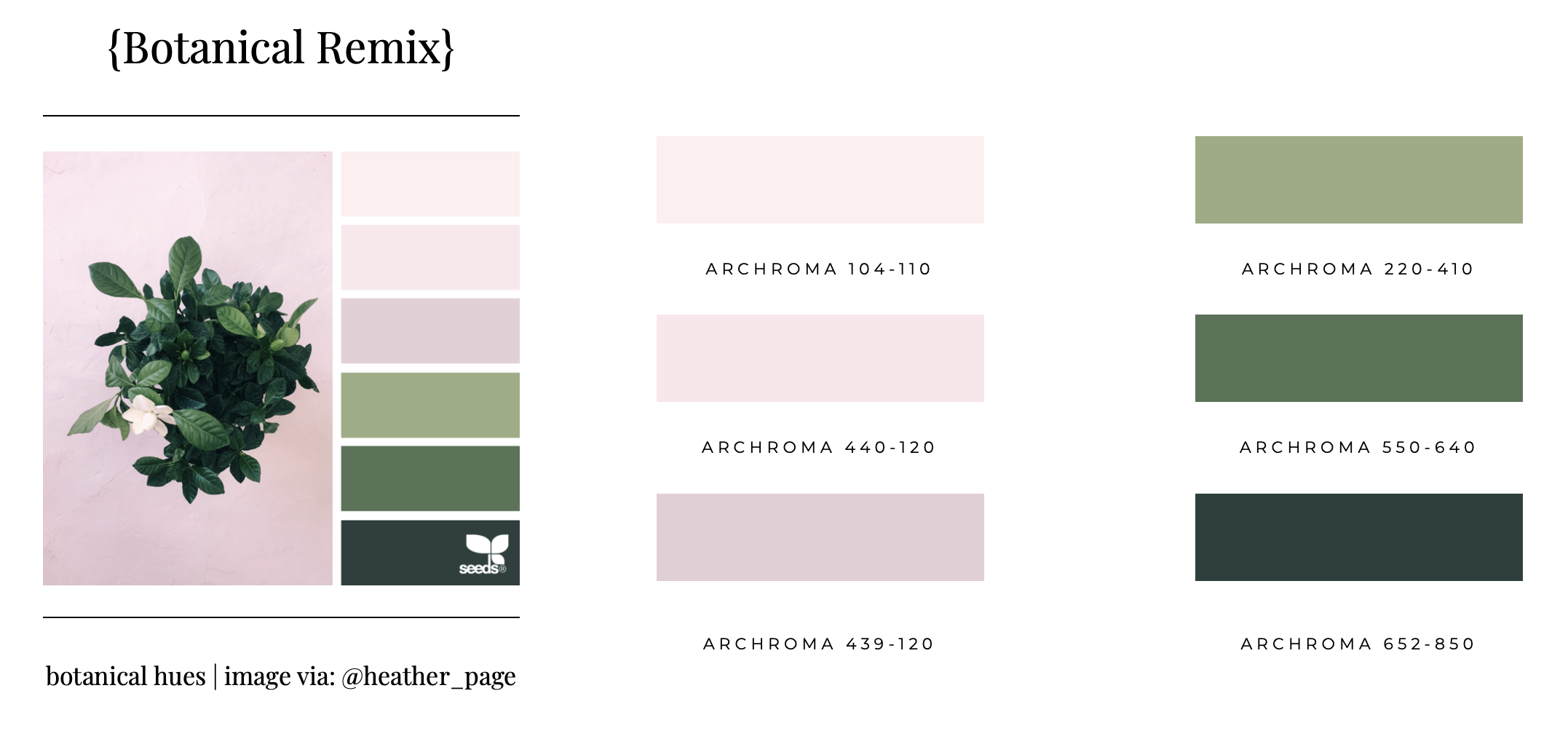 5. ARCHITECTURE.  I've always been a bit of an architecture nerd ever since I started learning about it in design school.  It was always so incredible to me how architecture has helped shape human history, and how it says so much about humanity in general.  Because of the sheer size and scope of architectural works, they have the ability to be truly awe-inspiring.  I love taking design inspiration from beautiful buildings, like this gorgeous pastel spot in Poland.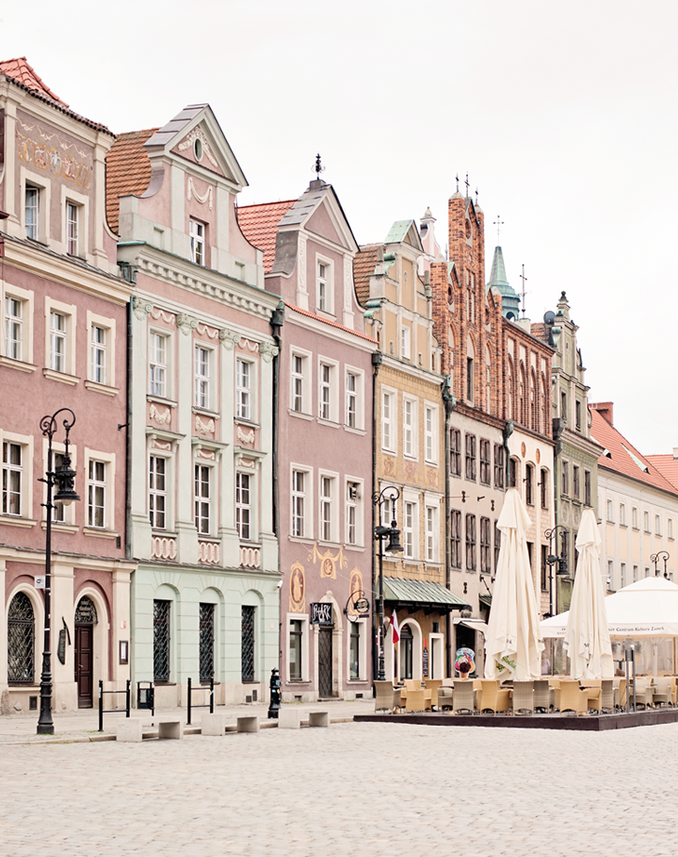 6. MY OWN PAST WORK.  This might seem strange, but I consult my own interior design portfolio all the time.  Since I know the ins and outs of how each design went together, I also know what worked and what didn't, what was easy and what was difficult, and what my clients liked the best.  This gives me tremendous insight into my future projects!  Plus, it's hard to keep track of every single item I've ever used, so seeing them again in my nursery photos helps to spark my memory.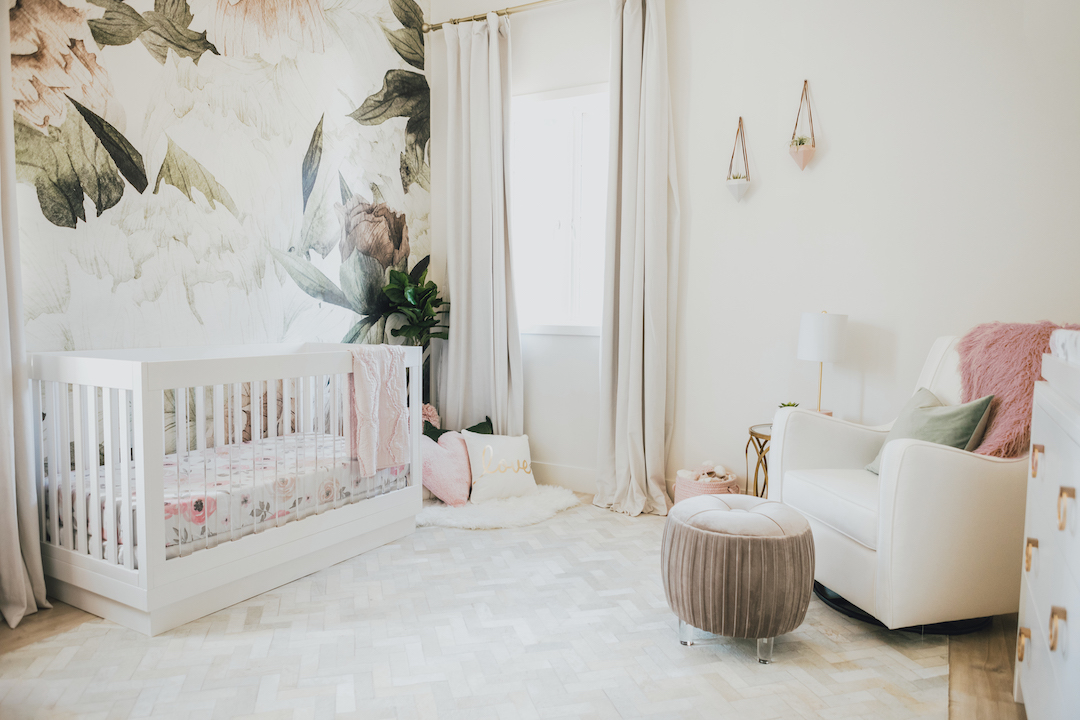 Inspiration is everywhere, absolutely everywhere.  That said, if you're still having trouble finding the right nursery inspiration, or you just want some guidance, check out my nursery design services.  It doesn't matter what your budget is, or where you live.  I have service levels for everyone!